A more accurate title for this post would actually have been - the sunny side of the moon!
For not only are one of my favourite boutiques - THE MOON AND MARS  having a sale, there is now an additional 25% off everything to make room for all the lovely new things for Spring.
If I was a more rational type Queen, I would show you a lovely selection of designers like Rachel Comey, Samantha Pleet, Stine Goya, Carin Wester, Wool and the Gang and Triskaidekaphobia.
But I'm not rational, so instead I'm going to show you lots of another of my favourites IVANAhelsinki whom I've featured on here many times.
 Finnish national-treasure IVANAhelsinki is an independent art and fashion brand run by sisters Paola and Pirjo. Every season designer Paola beautifully fuses unique luxury textiles and knits with an ultra-feminine but melancholy design aesthetic (I do so love a bit of Nordic melancholy, I can't help myself...)
 Though Paola now divides her time between Helsinki and NYC, where she works on her other passion – filmmaking - the influence of her native country, white arctic summer nights and endless winter sadness, is a re-occuring theme for the line. 
*sigh*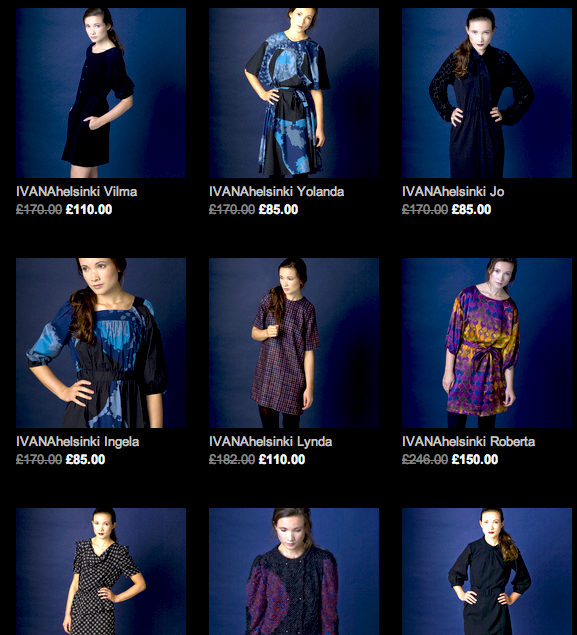 I'm so tempted by The Regina dress below,in a super-soft velvet-y fabric, with it's square neckline flared sleeves and pockets in this glorious Orange Tapiola print, it would brighten up these dark dull Winter days, and with another 25% off, it's practically begging me to buy it.
I'm thinking it would be rude not too!
 From Now until February 1st, for your 25% discount
 Simply use code:  Elara
 And you're set - easy!
Now if you will excuse me, I've got some garments to grab...
Queen Marie
x