If you're reading this, then it would seem that the pesky Mayans were wrong and the end of the world has not come.
That's the good news.  The bad news is that Christmas is stil coming, so if you've not finished your shopping then you had better get a wriggle on.
The Met Office are predicting that it is going to be a very wet Christmas not a white one.
So even more reason it would seem. to treat yourself or a loved one to a Stutterheim Raincoat...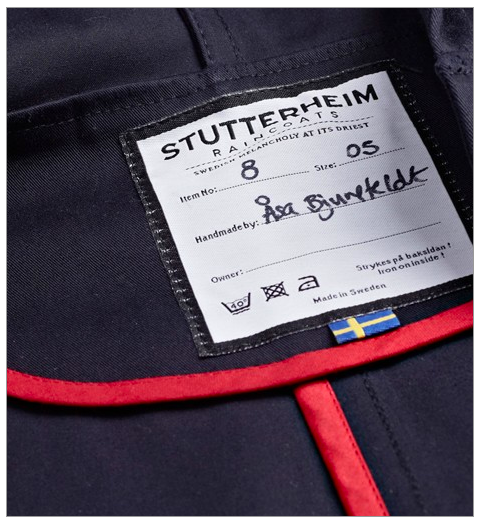 If I had to choose my favourite product and site of the year it would be this.
It is total perfection.
Total utter perfection - clean, simple, elegant, functional, melancholic.
The look, the feel, the story, the product. It's all just wonderful.
It's not often I would urge you to visit a site and read every page, but this time, that is exactly what I'm saying.
It's Friday, so go make a cup of tea, sit back, relax and read the story of Stutterheim...
My granddad was a wonderful man. He often went out fishing from Arholma, (an island in the Stockholm archipelago) during stormy weather and then later in the evening he wrote poems as well as managed a big theater in Stockholm. He scared me to the bone every time he set off to sea to catch fish (or life, as he said), defying the worst of weather, the heaviest rain and the loudest of thunderstorms.
 It was just recently that I discovered his old rain coat in an abandoned barn. In that moment, old memories struck me and I instantly wanted to wear his coat. It was both stunningly cool and very practical too (although big as a tent). Carefully, I brought it back home to my kitchen and imagened it in an updated, contemporary version. A homage to my granddad, and the quest for life.
 After my discovery, I went out to buy a piece of oilcloth. I put it on the kitchen floor and cut out a design using the old coat as a pattern. I showed the sample to a couple of friends. And after some improvement, there it was – the 60's raincoat from the archipelago, updated to fit the modern man.
 I brought the prototype to the last standing textile factory in Sweden – in the small town of Borås – since rainwear has been engulfed by the sportswear industry and production has moved to low cost-countries far away. As soon as I met the manager, Johan Käll and the seamstresses Birgitta and Lena, I knew they were the right people. A perfect match. Their skills, tradition of craftsmanship as well as their great attention to materials and detail, and the concrete design of my granddad's coat and the updated prototype, awoke the idea on how to do it – by hand.
 And there it was. The coat. With all its seams taped and sealed. In the very best quality. Hand made and with a discreet, classical cut. The first 200 coats – Arholma Svart – were made and sold in my apartment. Each coat was signed and numbered by the seamstress, (they still are) to really make sure the quality matched the very highest of standards.
 After a couple of months, (when my neighbors became suspicious of all the people in black coats) I had to move my business to another location. The new store, showroom and headquarters, in which I wrote this text, became our very own venue for experiments within the realm of rain and darkness. And from now on, it's here where every new idea and product is born.
 I am very happy, (although I am melancholic from time to time) that I have managed to give new life to my granddad's old coat. A coat to wear when in the countyside, at the sea or just when you're strolling along in the city. To be well-dressed, even in bad weather conditions, is now possible.
 I surely hope that you will follow this wonderful project in the future. Any ideas on new items, colours or designs are happily recieved by me.
 Welcome to embrace the demons lurking outside and hiding within.
Swedish melancholy at its driest
Sincerely,
Alexander Stutterheim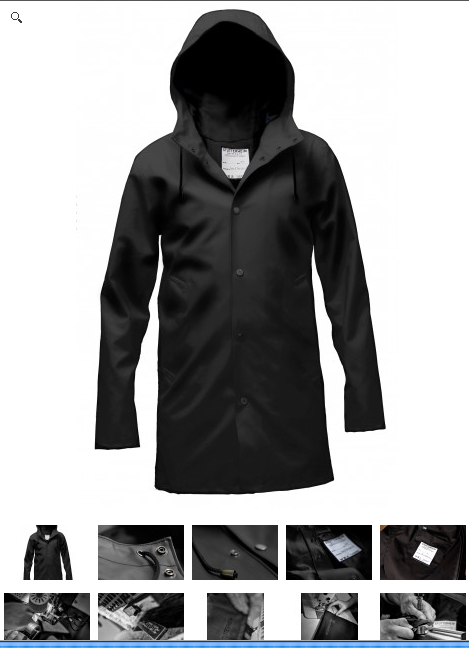 Queen Marie
x
ps - Santa if you still don't know what to bring me, then a melancholy Swede like this one below would do very nicely. Very nicely indeed...