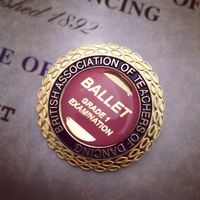 I don't know if I'm going to feel this way after Sunday, when I sit my 3rd ballet exam, but I really feel that I'm finally beginning to make progress in pointe. In many ways, well most ways to be honest, it's down to the encouragement of our young ballet teacher. I love going to class, but when it comes to pointe class I actually get so unbelievably excited about it, for days before. Pointe is so hard, especially on new, untrained feet, but nothing is more rewarding that being able to achieve something en pointe that you previously could not. Particularly when you've been told you'd never go en pointe. Ever.
I feel so much braver with her than I did with our previous teacher and I find myself wanting to give everything a try. Some teachers may gave praise easily because you're an adult and, bless you, you're trying, but our pointe teacher praises us and tells us when we're not doing things well in equal measure, so when she's excited that you've progressed, you know you actually have.
Oftentimes, I find intermediate class frustrating because we flit from one thing to another so quickly, never getting the time to perfect any one thing. One week we might try and learn a cabriole for 5 minutes, then never revisit it again for weeks and weeks, if at all. And usually it's at the end of class, so I just leave with the memory of trying to learn a new move, in 5 minutes and failing miserably obviously, and just come away incredibly frustrated. It's very hard for our Intermediate teacher as he's trying to cater for such different levels and different dancers in a space of an hour. In pointe however, it's always the same girls, all at the same level and she does the same exercises for weeks and weeks until we perfect it, then we move on. It's a slow process but so much more rewarding because of it. This is how I prefer class, because it's how I learn, and this is also why I love graded class.
When I was a child, my parents were often asked to visit my teachers at school because I was a very stressed child. Whenever we had a test at school, if I became stuck on a question, I simply could not move onto the next question and leave the unanswered one behind. I would stay at that question, trying to work it out over and over and over, even if it meant not answering any of the other questions and, as you would expect, failing my test. I would cry with anger and frustration at my inability to answer the stupid question, thus stressing out my 7 year old self. This trait has never left me and I now learn by repeating things until I get them right. It's actually a terrible trait to have, on reflection, but I figure it's too far down the line to just leave those pesky unanswerable questions behind.
The repetition in pointe serves to appease the perfectionist in me, and the irregularity of Intermediate class serves to throw my ordered brain into utter confusion. Now I think about it, I think this is why I pushed so hard to have graded classes run for adults - an ordered class means measurable results. It means focusing your brain on one thing until it's right, even if that one thing is a serious of exercises. Getting to focus our brains on a single thing for a prolonged period of time is kind of a luxury as an adult. Normally we have to focus on multiple things and are expected to do them all equally well.
We are currently doing a preparation excercise for fouette turns. I can't do it just yet, but I'm happy because I know we'll be doing it again next week, and the week after, and the week after that, and every week after that until I can. This makes me happy.
Queen Michelle