With the temperature dropping and Santa only a week away, I know he will be expecting me to ask for slippers, but I think I'm going to send him a quick note and ask him for spaghetti feet instead.
Yes I know how contrary it is to be thinking about sandals, half way through December but I can't stop thinking about these puppies (and I don't even like spaghetti!)
Arielle de Pinto/LVMM Sandals  $250 from here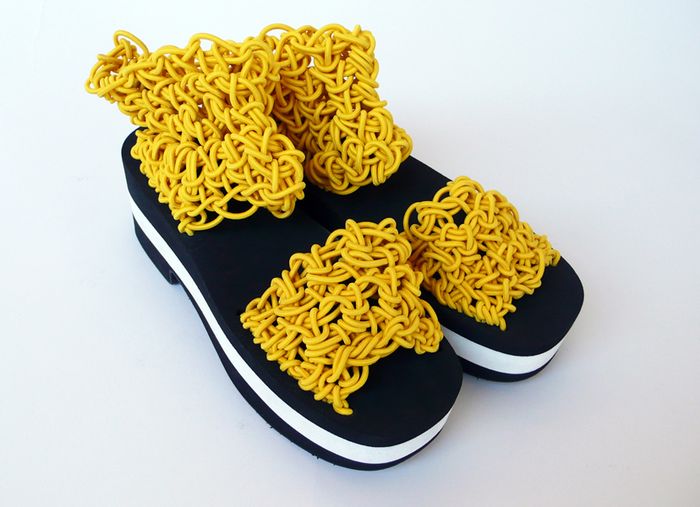 These are the Marigold Crochet Platform Sandal, from Arielle de Pinto's Summer 2012 collaboration with LVMM.
The Marigold crochet is in de Pinto's trademark style, using the characteristics of her jewelry in a totally new way.
Canadian designer Arielle de Pinto graduated from Montreal's Concordia University in 2007 with a degree in Fine Arts.  Her studies with print and textiles, in addition to a series of professional internships, led de Pinto to develop her own line of jewelry, which launched later that same year.  
Her eponymous label is characterized by the unique treatment of metal as a supple fiber, giving her hand-crocheted pieces considerable mass while appearing visually delicate. It looks like elven chainmail...
I realise of course, that I  may be too late and the sleigh may already be packed.
If there are slippers coming my way, then I hope they are coming to me by way of Vancouver, Cananda.
I am of course talking about Padraig Slippers

Padraig slippers have been hand made in Vancouver, B.C. for over 30 years.
They are simply the warmest and most comfortable slippers that you can buy. Made with a two-layer sole of sheepskin for comfort and leather for wear these slippers are made to last. Strong enough for adults and teens yet soft enough for the smallest baby.The upper is made from 100 % pure New Zealand wool which is warm yet breathable  – and cool in summer! Padraig slippers conform to the shape of your feet and will stretch a little. Padraig recommend that for adults you size them snugly.
Now if you will excuse me, I'm off to buy some carrots for the reindeer.
Queen Marie