I shall start Monday with a couple of apologies. Firstly, I promised a new JNXKOS piece this month, the last one this year, but sadly the Scottish Borders is a bit like a black hole - deadlines go in, spin in vortex for a while, before being torn to bits, never to be seen again. To be fair, in this instance it was those fools that FedEx who conspired to screw me up this time. So my apologies for that, next will be better.
My second apology comes from the fact I'm writing these posts utterly shattered, having just sat my ballet exam, after spending weeks doing extra classes and practising like a mo'fo and so the quality of my waffling may not be up to usual standard. These are the posts of a truly knackered lady!
Therefore the first post this week won't be an outfit one, but a jewellery one. I want to show you the work of Hannah Warner who began designing jewellery during her foundation year at Wimbledon School of Art. She went on to continue her studies at London Metropolitan, achieving a BA Hons. in Jewellery, specialising in metalwork. Hannah then attended the Gemological Institute of America in New York, graduating in Gemology and Diamond Grading. Her designs consist of gold, silver, black rhodium and a range of precious stones.
Hannah is "hugely influenced by her surroundings, be it from nature, death and decay found from the human body or animal structures or elements from different cultures that interest her creating " and this can be seen by her references to ancient Egypt and bones, in particular.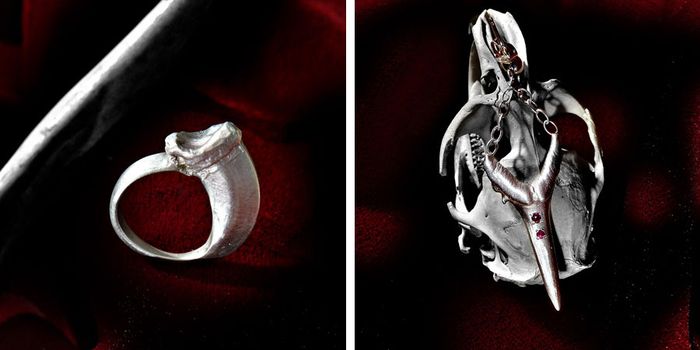 I especially love the Egyptian collection (the white brackround images) as I am fascinated by ancient Egypt in general, a trait I inherited from my mother. Prices range from just over £100 up to £300.
Queen Michelle