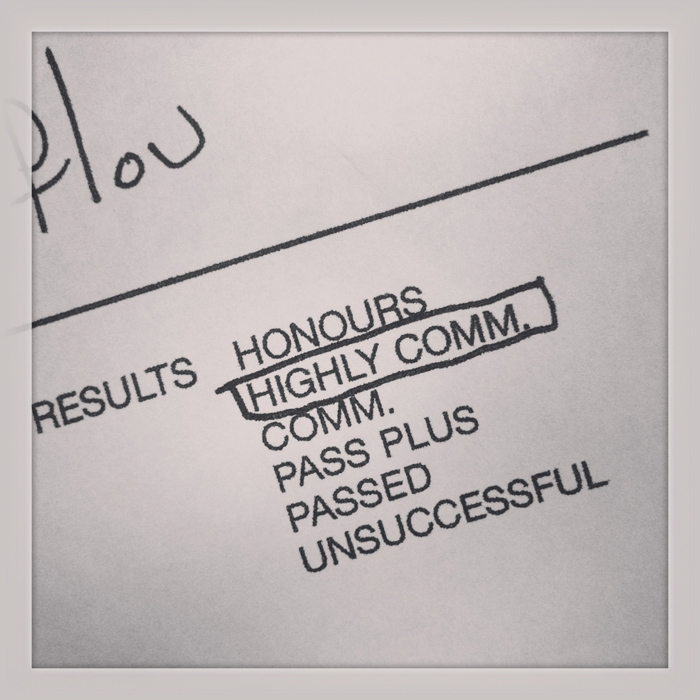 So last Sunday was our exam for Grade 3 Ballet and the last exam this year. 2013 will be grade 4 and 5, and that's when the hard work really begins.
I had practiced for the exam a lot. And I mean all the time. Even in work when I was at the loo or in the kitchen, I'd be going over my foot positions or dance. Cooking the diner, I'd be practicing. I did it as much as humanely possibly. I worked harder than I ever worked at anything.

Exam day.
I actually was really very calm. I knew I'd learned it inside out and knew I would not make any errors - no wrong arms or starting in the wrong foot. I'd ironed all that out. Of course, I also knew my main weak area - assembles. I just don't have the strength yet to jump in air and assemble my legs whilst I'm still up there. So the only choice open to me was to do them small. Just do something was the advice of our teacher.
Before the exam, some of my classmates and I had a Fame moment, practicing in the hall. Then my group got called. Still not nervous.
We got our numbers pinned onto our skirts before heading into the room to take our place at the barre.
Then it happened. Adrenalin suddenly raced through my whole body and couldn't stop shaking. It was crazy. I worked through the barre and centre work literally vibrating and I could do nothing to stop it. I normally get my leg very high in arabesque, but the higher I got it the more it shook and the more it shook the more off balance I began to get. The assembles came and went, with a whimper it has to be said, and I was glad they were over, then a few other things before moving onto the dance.
Last years technical hitches with music were almost set to happen again, but luckily the examiner noticed and asked for the music to be put back to the start. I didn't make any errors with the dance, which I knew I'd pretty much had nailed, so I really enjoyed it. I was still shaking though, so it could have been better.
If am honest, I was really hoping to get an Honours pass, as I know this was realistically my last chance to get one, since grade 4 and upwards will be way too hard to even contemplate getting a honours. I got a Highly Commended. Still good, but not quite good enough. I feel it reflects my life in a strange way. Good but never quite good enough to be great.
In my sheets he made comment about the assembles, which I half expected. He referenced that my leg was not high enough in my Poses, which I also knew because of the shaking. He said my danced flowed well, I had strong, controlled Plies and my échappés were well executed, but I just need to watch I land my heels down every time. Good comments and definitely things to work on for next grade.
Make no mistake, whilst  I am disappointed I didn't get an Honours,  it's more disappointment about not being good enough for one quite yet. I obviously got the mark I deserved this time. Last exam I felt I didn't, because of the technical hiccups which took things out of my control rather a lot, but this time there was no technical hitches, so Highly Commended is obviously just where I am at in my ability level. I just really hoped I was better.
But the postive is that yes I did indeed pass. It's harder to get the good grades the higher up you go, so I'm pleased I got a higher pass at a harder exam. And I now I just need to work really hard on my strength and balance, and learn to stop shaking in exams of course!
Queen Michelle