Waiting with Empress Gillian in an electrical store on Wednesday night, I suddenly realised the only keeping me sane and stopping me going into a fully fledged strop, was the fact that I was singing along to a Disney album. 
Somehow you can't get mad when you are singing along with Balloo the bear.
Disney never fails to charm you whatever your age.
A little bit of bambi does you good, in every walk of life! 
The steel-framed, nylon fiber finish Bambi chair below,was designed by Japanese designers Jun Hashimito and Tatsuo Yamamoto back in 2009. At first glance, the legs on the "Bambi Chair" take all the attention. The design is witty and clever up top, but it is the shape below that captures the construction and provides the glorious line.
Built of steel with a with nylon fiber finish, who wouldn't want a whole herd of these bambis prancing around your dining room...
But the most glorious bambi inspired thing I ever did see, was this stool below by James Plumb
This British design duo is comprised of Hannah Plumb and James Russell, two artists under one name. They work with the overlooked and discarded items, taking time-worn antiques and cast-off things to produce unique furniture pieces that are truly worthy of any gallery space. 
Spazzio Orlandi in Milan was an obvious place for them to exhibit earlier this year. 
I adore this piece so much, that I don't think I would ever want to use it, I would just sit and gaze lovingly at it...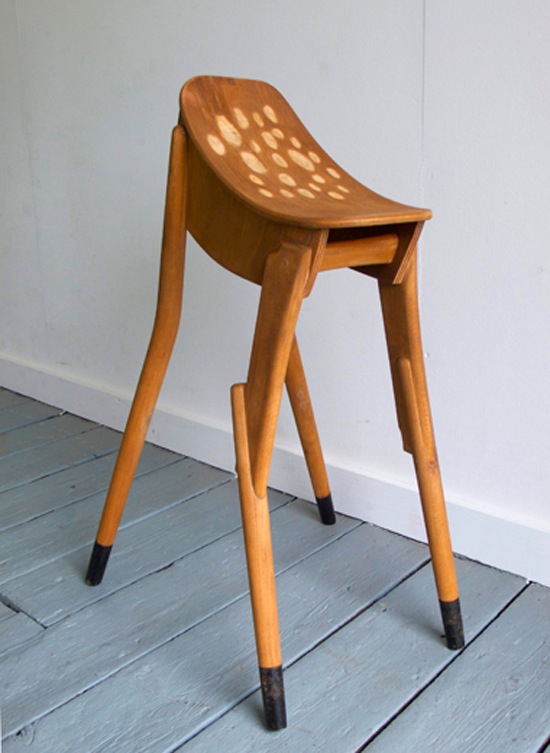 Queen Marie