Maybe it's because I'm getting older, but there is nothing so joyful to look at, as Wedding photographs.
When I was younger, it was always the brides dress and hair I looked at first. Now I look at the expression on their face.
The happiness, the excitement, the hope, the joy, it's all there, complete with the radiance of the bride herself...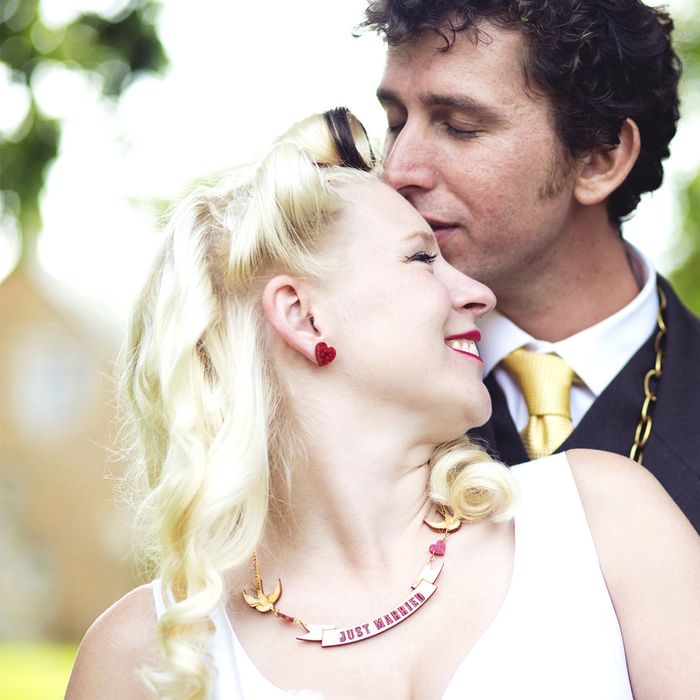 The bride above is the lovely Becky from Swank, a long time Kingdom favourite, who emailed us this week to tell us about her latest creations -
 "My first offering is a Custom Rockabilly Tattoo Necklace,
I designed this necklace for my wedding in September (which was amazing my the way!). It is based on a 50s rockabilly tattoo design with a banner, swallows and hearts.
Swanky customers can now buy the necklace changing the lettering in the banner to say whatever they like (within 14 characters!). The banner and swallows are made from laser cut plywood and the lettering and hearts are glitter perspex which the customer can also choose from a range of colours. The chain comes in gold or silver plated."
Your own bespoke necklace is available for only £25 here 
Next up is the Toucan necklace
 Available in plain or mirrored perspex, Becky personally love the mirrored version, as it makes her think of her Mum's 80s jewellery!
Priced at £24.00 Bargain!http://swank.bigcartel.com/product/toucan-necklace
And I still can't believe I have never got around to buying one of her Arghhhhhh necklaces. An oversight I plan to remedy today.
Arghhh and Whaam Necklace £22.00 each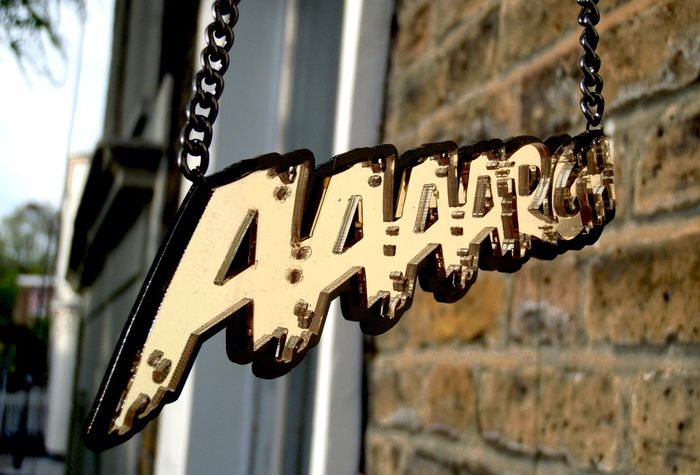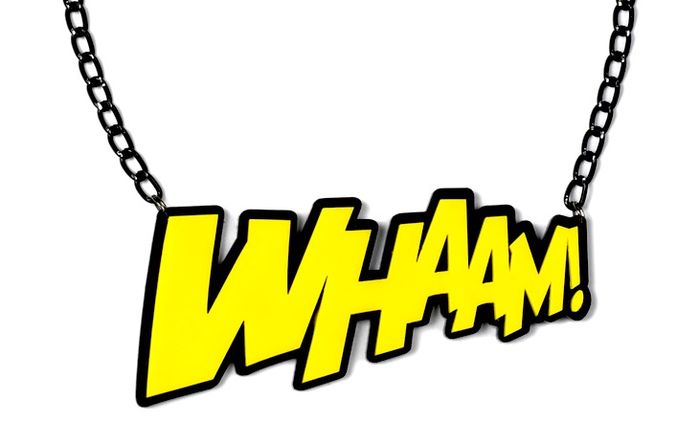 In the spirit of spreading the happiness, Becky has given everyone a 20% discount on everything. Hooray!
Just enter KINGDOMOFSTYLE at the checkout.
I'm sure you will join us in sending love and congratulations to Becky and her new husband and Becky it goes without saying, what a beautiful bride you made. Just beuatiful...
Queen Marie
x