1991.
Kurt Cobain has just come on stage in a wheelchair wearing a lab coat. Everyone goes crazy. Krist Novoselic plays random little chords on his bass as Kurt entertains his adoring audience before the band break into Polly. This is one of my cherised memories from the 90's.
The early 90's, when you were actually old enough to appreciate it, were a great time to be into music. Sonic Youth, Green River, Melvins and Mudhoney were really making waves and Nine Inch Nails and Ministry were still going strong. You didn't know you were part of one of music's great, albeit brief, periods you just knew you were glad to be alive and hearing it. In life, the late 80's and early 90's were definitely my favourite times.
There's a lot of nostalgia about the 90's but what we see now is the stylised, glossy, fashion version of the 90's. In reality, we all just looked a bit poor. Poor in really bad jeans.
However, I do love the fashion version of grunge. I actually wish I had dressed like that at the time. I would have looked way more stylish than I did! I lived in an lumberjack shirt I'd found in a jumble sale (not ironically - I was unemployed and had no money so had to shop in jumble sales and charity shops), ripped jeans and falling apart Converse. It wasn't really a fashion thing, I was just too poor to not have second-hand clothes. I also lived in pretty floral tea dresses, which I was obsessed with, and my Docs which were still going strong from the early 80's. It was really the 80's and 90's that I became adept at DIY, because you could buy full length, floral old lady frocks for pennies in charity shops and all you had to do was shorten them.
However,  I'm not poor anymore, so I can now do a slightly more fashion version grunge. And fashion grunge means wearing this awesome plaid shirt dress from White Chocoolate.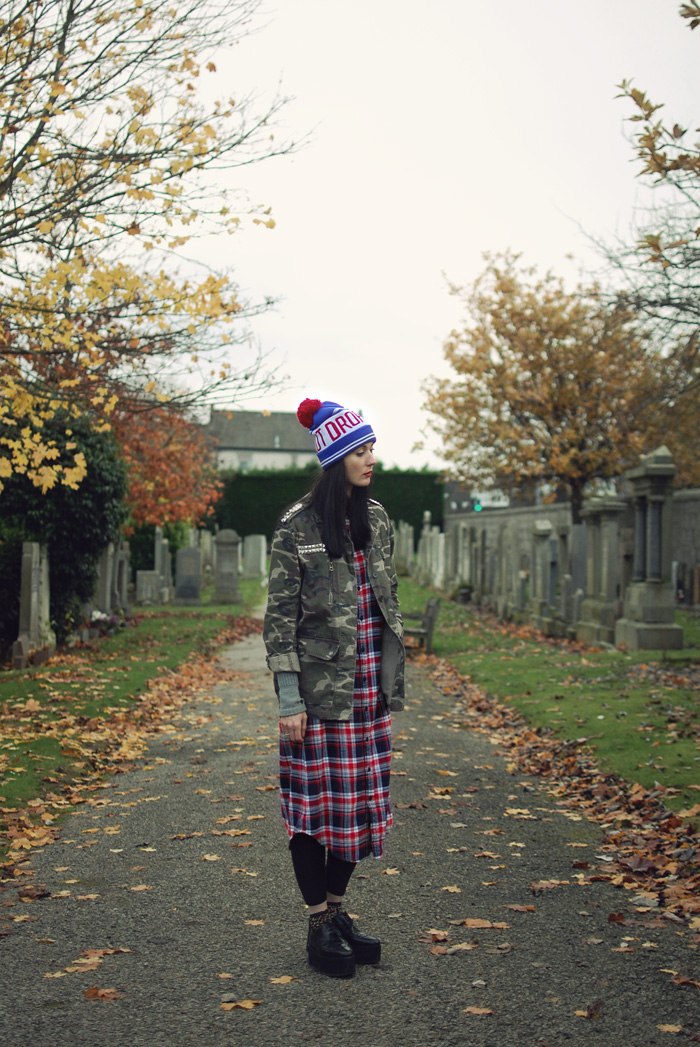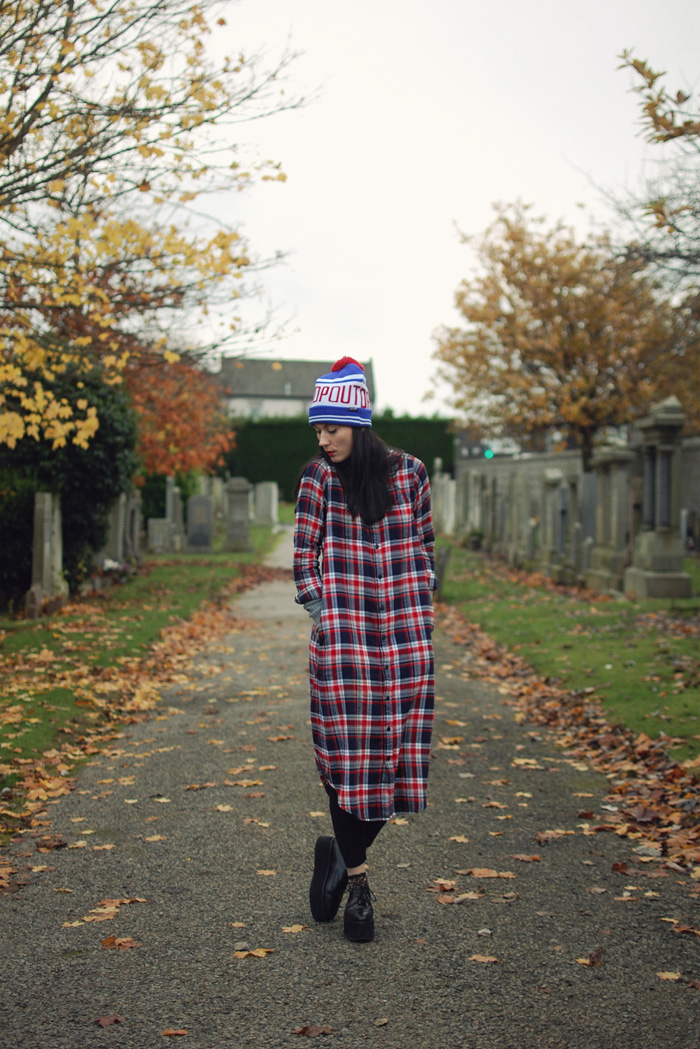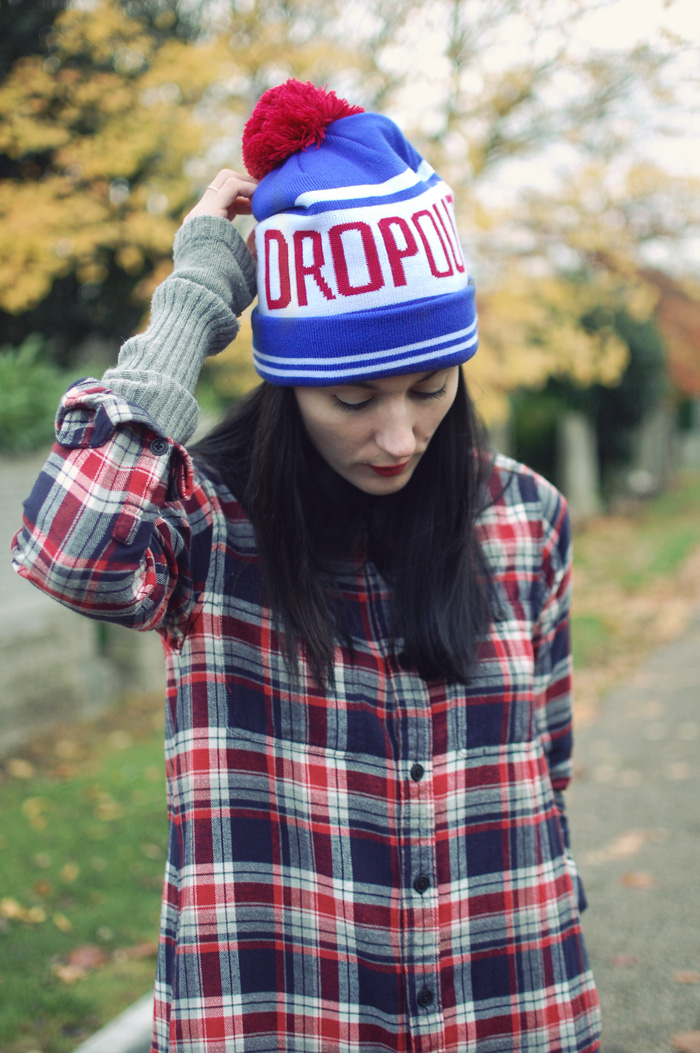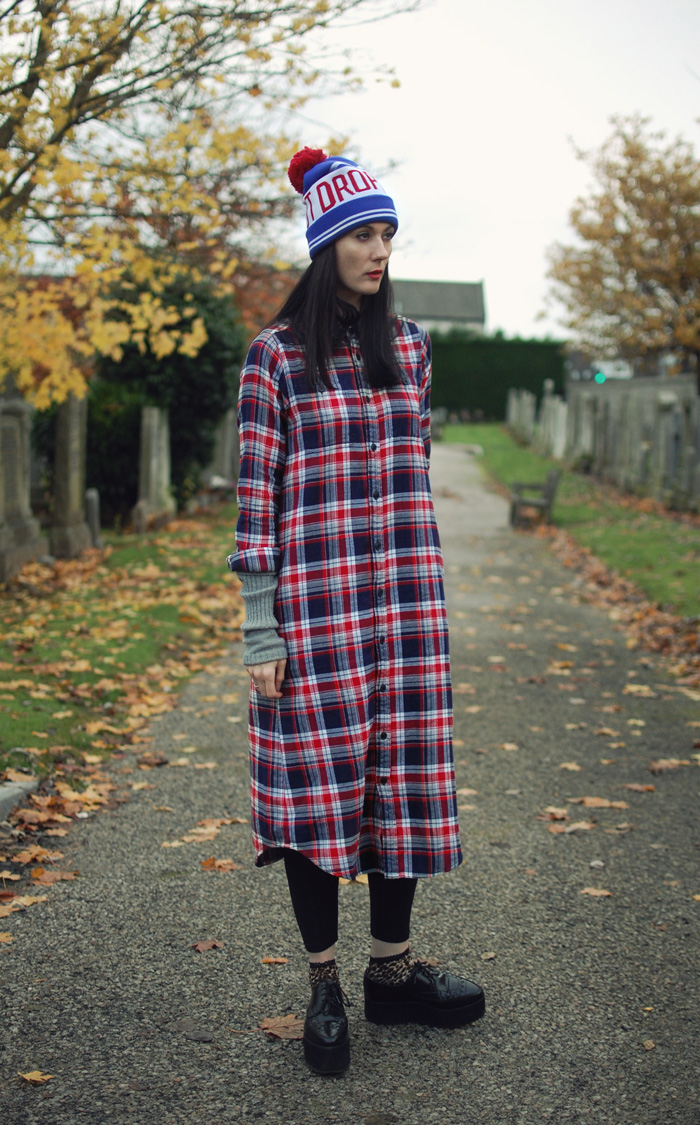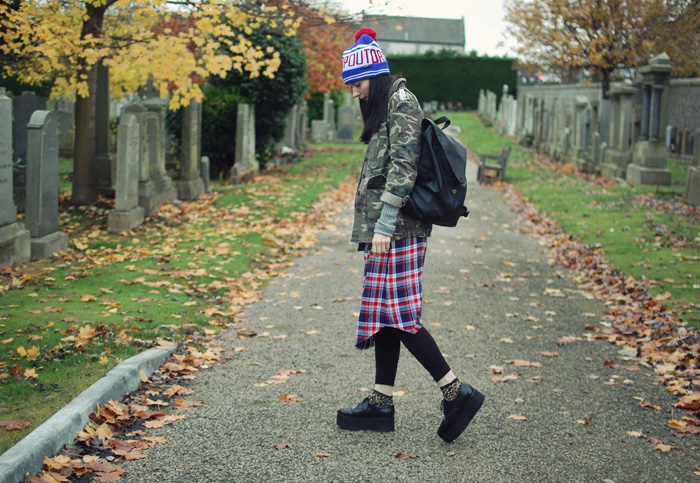 I can't express to you how much I love this. I feel like Wee Willie Winkie in his nightie. That's a good thing. I teamed it with the amazing Lazy Oaf 'Dropout' beanie, Underground England creepers, some old armwarmers and leggings, leopard socks and camouflage jacket. In truth, it's more an outfit born out of the need to be warm in chilly November days.
I'm certain this outfit won't really be anyone's cup of tea, as I suppose it's quite unflattering in terms of length and the baggy cut, but it's so very comfortable.
Queen Michelle