When Edward Hopper painted Nighthawks in 1942, I'll bet for he never thought for a minute that it would go on to be one of the most recognizable paintings in American art. 
I always think it is such a lonely painting.
It speaks not just of being alone at night, in a big city but about being on our own in the human condidtion. We all know that feeling of being alone even in a crowd of people.
Phillies is no welcoming sanctuary.  There is no door, no way in, no way out.  The people inside, are like creatures under a glass dome, exposed and vulnerable under that harsh, unforgiving overhead light...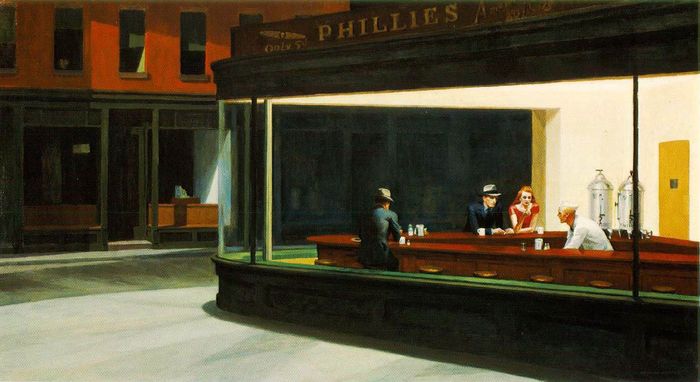 Within months of its completion, it was sold to the Art Institute of Chicago for $3,000 where it has remained there ever since.
But since 1942, it has become one of the most reproduced art prints in the world.
As such, it has made it's way  into countless homes and in the process, become an iconic image that has inspired countless pastiches and parodies...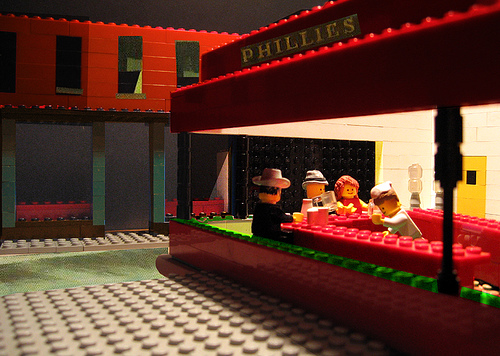 But yesterday, Our Frances sent me a link to one that made me laugh so hard, my tea almost went everywhere...
(If you are not from Scotland, and therefore confused about what the bear means, then I offer up an explanation from the Urban Dictionary, which also made me laugh -  A less formal way of saying "good sir, I believe you have wronged me, and I hereby challenge you to a match of strength to determine which one of us is the superior fighter.")
Maybe Edward Hopper will be turning in his grave, but I'd like to think he would be amused at the fact that his painting has taken on a life of it's own in so many ways....
Queen Marie
x