Rare is the day, that you come across a site where you want to buy everything on there.
I mean EVERYTHING.
Coral and Tusk is just such a site.
It is beyond charming.
Hand embriodered charms, patches, cushions, prints, t-shirts, dolls. I want them all.
I predict a patch attack on every parka I own, once I can decide which ones to settle on.
Designer and founder Stephanie Housley is a graduate of Rhode Island School of Design. She has been living and working in New York as a textile designer, specializing in woven fabrics. Stephanie spends several months out of the year in India, designing textile collections. Her experiences with textiles and crafts in her travels have inspired her unique and sensitive handling of color and surfaces. Stephanie started Coral & Tusk in 2007 with her husband Chris Lacinak.
 Pocket Dolls  $69 each ( how can you not love that cheeky little fox face?)
Stephanie explained the process behind achieving such a unique hand drawn look saying-
  " In terms of process, I generally begin with a drawing on paper or a hand embroidery. I then scan my sketch (or embroidery) and redraw the concept in stitches (literally stitch by stitch!) with software attached to my small embroidery machine. The software allows me to maintain my own style of mark-making, which is essential. After I draw the stitching file, I use the embroidery machine to stitch the image, one color at a time. It is a Husqvarna Designer SE embroidery machine. It's basically a slightly bigger tabletop sewing machine. I come from a long line of Appalachian women who were always involved in some type of handiwork. I followed suit, but eventually became interested in finding a way to bring the integrity and special feeling of a "hand embroidery" to a process of mass production. These embroideries can go on many different types of objects: clothing, pillows, wallets, aprons… you name it"
Merit badge set $76
The entire crew: badger, bear, bison and ram merit badges. 
Embroidered on wool/rayon felt. Steel pin affixed to the backside for wearing.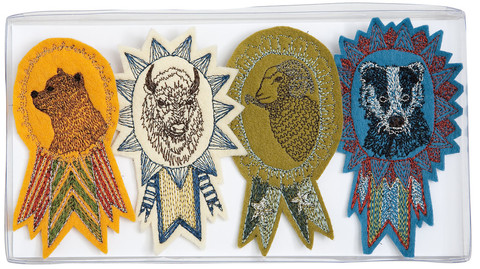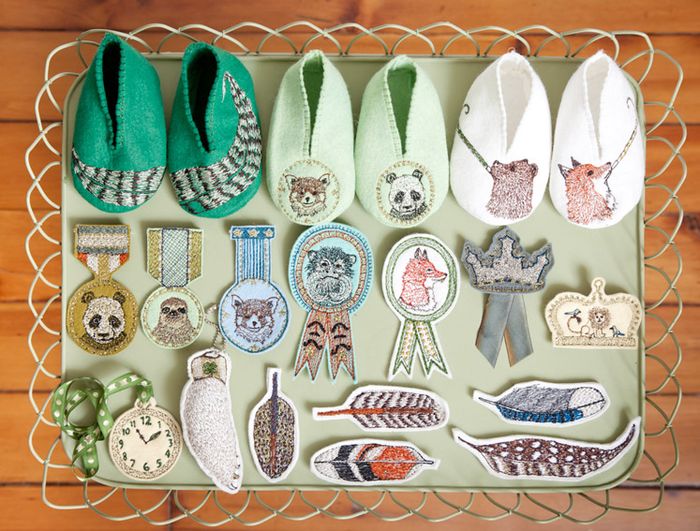 Owl and Fox Portrait Pillows $74 each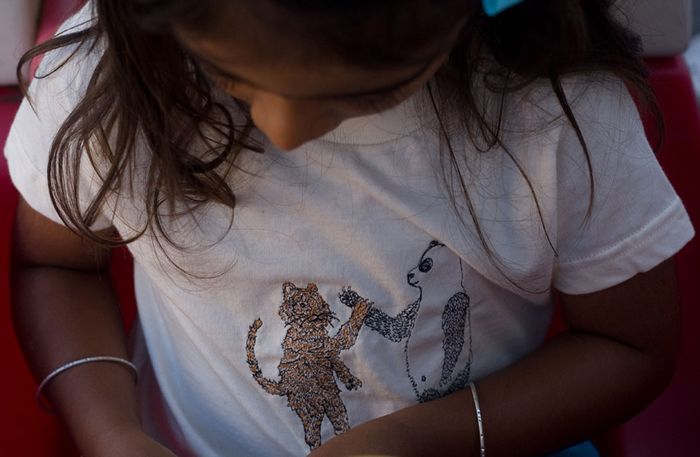 I especially love the expressions on all the animals faces.
Perfect.
Queen Marie