On my perfume trails, which have been extensive, Michael from Profile PR send me some samples of a new scent collection called UNION, which has just been released in Selfridges . The collection contains 4 perfumes which use ingredients unique to the UK, a perfume first I do believe. 
From the moorlands of Yorkshire to the mountains of Snowdonia, from County Derry to Perthshire, Union's perfumer, Anastasia Brozler, has scoured the countryside for the most beautiful ingredients, gaining access to some of the country's oldest private estates in her search for the finest single notes that Britain has to offer.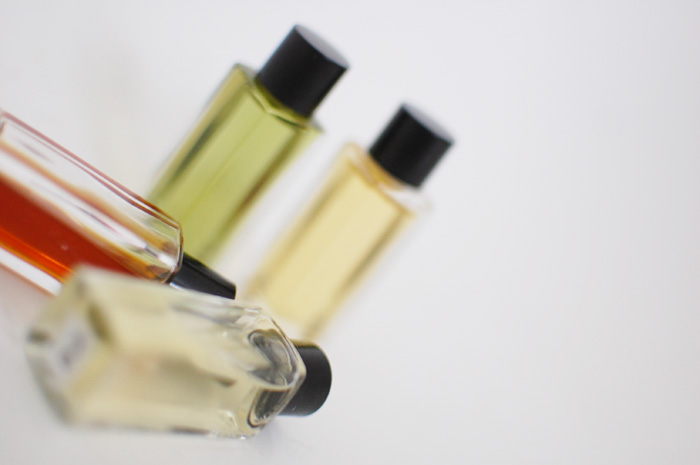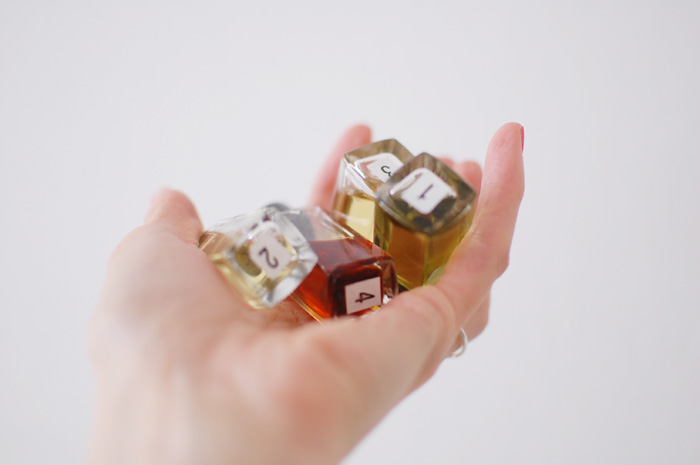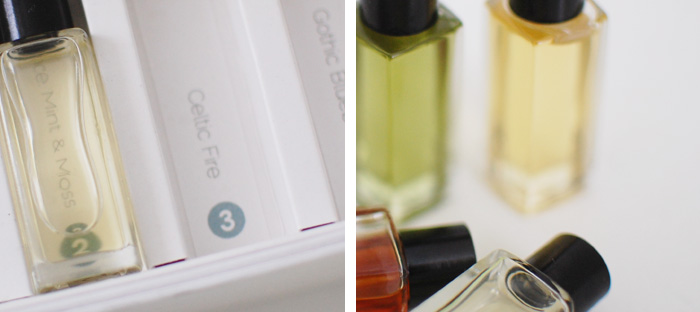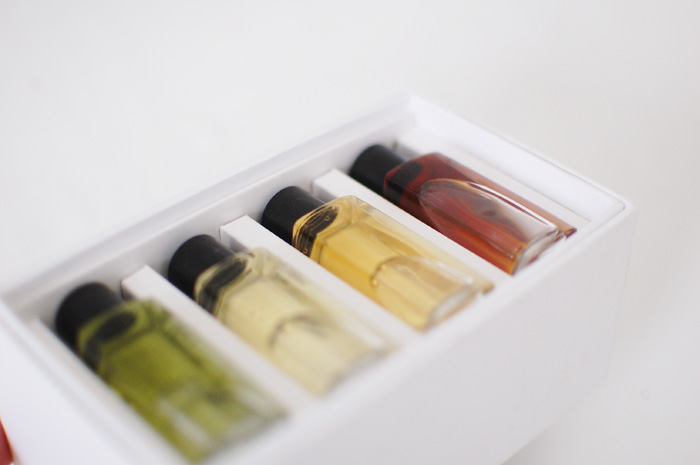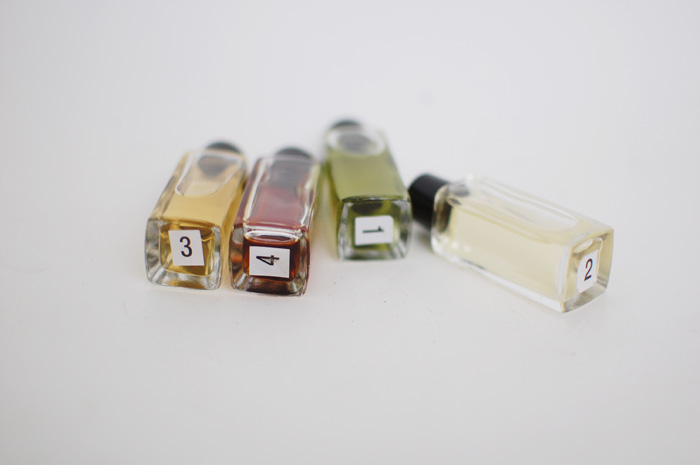 The 4 scents are very fresh and 'green' smelling. I've been wearing Gothic Bluebell rather a lot, which smells strongly of sandlewood incense to my unsophisticated nose, and reminds me of my younger days spent in occult shops buying runes. Prince B has been wearing the rest and smells delicious every morning!
Here are the ingredients and descriptions of the 4:
Holy Thistle
Cnicus Benedictus or the Holy Thistle has been been cultivated for its medicinal qualities for centuries, but here it's fresh, green aroma has been sourced to the Kinrara Estate on the banks of the river Spey in the Highlands , captured and combined with a halo of misty, icy Bay from Pembrokeshire, Bracken from the borders, and Highland Pine Resin. 
Quince, Mint & Moss
The quince was first planted in Britain by Edward I at the Tower of London in 1275 and has been teasing our palates with it's tangy, perfumed sweetness ever since. Our quinces hail from Somerset, and sit at the heart of this fragrance, exuding a vibrant, fresh nose that lifts the spirits. Garden Mint at the top, is an undervalued and equally exuberant, luxuriantly green, scent that explodes from the bottle, accompanied by icy -cool juniper berry's from the forests of Caledonia and spicy lime leaves. The emerging quince notes are encased in a herb crust with wild thyme from Snowdonia and sage from Gloucestershire. At the base, mountain ash extract from Sterling and soft Irish moss provide a verdant cushion. 
Celtic Fire
The fens of County Derry provide the rich and smoky peat that is the inspiration for this smouldering, olfactory conflagration. This scent speaks eloquently of primordial, untamed terrain with oak extract from ancient forests, fir balsam and pine needles from the wilds of Aberdeenshire and combined, at the centre, with a surprise hit of Marmite, the yeasty, salty British icon that is still made in Burton on Trent, Staffordshire! Glowing birch tar from Inverness-shire and the gentle sunshine-sweetness of bog myrtle from Fife complete this ode to wode! 
Gothic Bluebell
The dark oak forest opens onto a sun dappled clearing, revealing a castellated, Victorian folly, surrounded by a sea of fragrant bluebells - this Arcadian idyll conjures the essence of Gothic Bluebell. Welbeck Abbey in Nottinghamshire - the historic seat of the Dukes of Portland - has generously provided both the inspiration and the bluebell oil for this project, and here its simple, potent beauty has been blended with narcissus absolute and that of a close sister, the hyacinth( the Latin for bluebell 'Hyacinthoides Non-scripta' means literally 'like a hyacinth') both garnered from the Scilly Isles. These rest delicately upon a soft, forest floor of deep green violet leaf from Devon and ground ivy from the enchanted woodlands of Dorset. 
Michael also alerted me to the release of a collection of scented candles by Urban Apothecary London, created by Tajinder Banwait, featuring the scents of Fig, Plum, Pomegranate, Plum Blosson, Sicilian Lemon, Orange Blossom, Peony Rose, Vanilla Flower and Sweet William. I'm planning on smelling some of these very soon.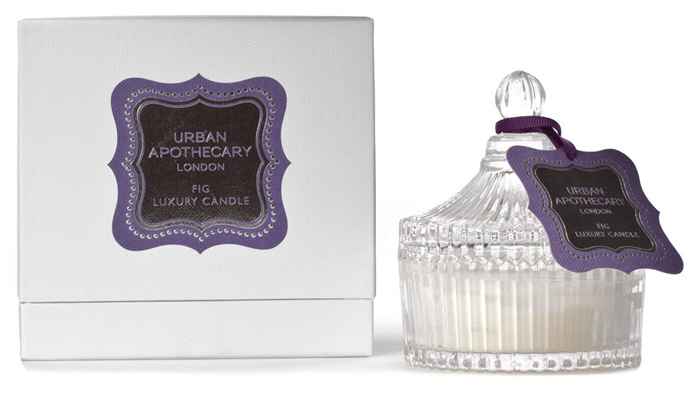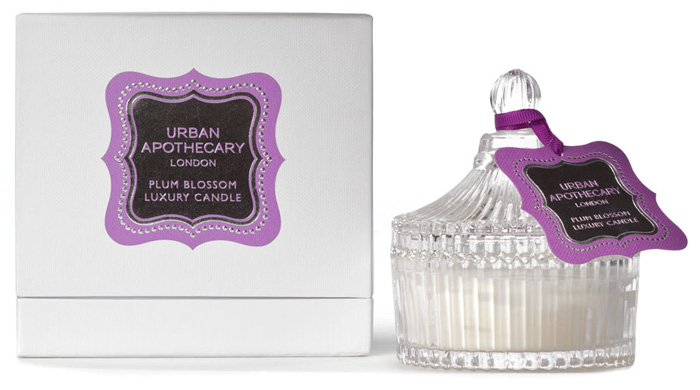 A hot bubble bath with scented candles is one of life's joys, and one which I indulge in during the winter evenings when it's nice and dark outside at night, and I can bathe with only the candle for light.
These are available from John Lewis and Urban Apothecary London.
Queen Michelle