The press release along with the new Marni Resort Collection reads as follows- 
A sense of risk with the taste for sophisticated restraint. The Marni Resort collection is spirited and personal. Constructions are graphic, with curved volumes defining an archetypal feminine line. Cropped lengths and abstract details taken from the Western repertoire insert an element of dissonance. The result is graceful, yet full of modernist tension.
 The silhouette is neat and crisp: it flares firmly from a nipped waist to end below the knee, or flows fluently. Rounded skirts are paired with straight blousons and overcoats closed with snap buttons, flat golden studs outlining the collar. Loose trousers worn with mannish shirts have an air of slouchy sophistication. Raffia in used to create three dimensional embroideries; shirt & skirt ensembles swarm in matching or mixed prints. Sight and touch are simultaneously stimulated with studs, pipings and intense textures.
But for me, it's all seems a whole lot simpler.
It just looks like Consuelo was chaneling Johnny Cash and June Carter.
Albeit a 21st Century Johnny and June
Johnny Cash and June Carter in front of Folsom State Prison, California in 1968.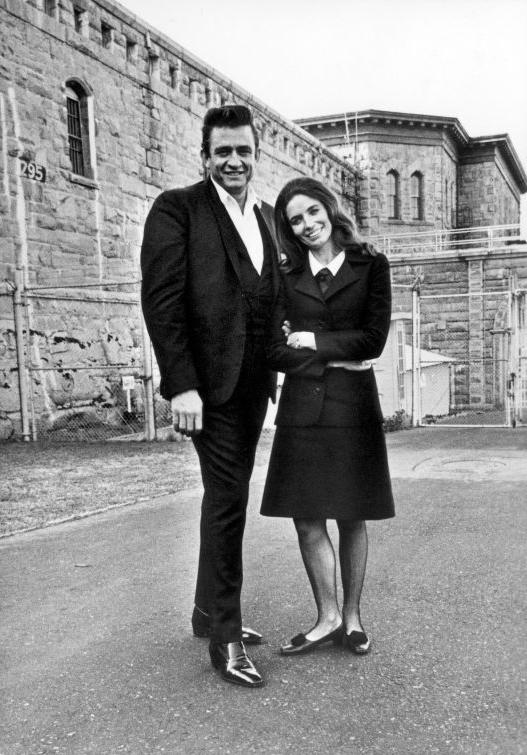 Their love , career and early marriage were depicted in the film Walk the Line. They were married for 35 years.
June Carter Cash died on May 15, 2003, at the age of 73. June had told Cash to keep working, so he continued to record, completing 60 more songs in the last four months of his life, and even performed a couple of surprise shows at the Carter Family Fold outside Bristol, Virginia. At the July 5, 2003, concert (his last public performance), before singing "Ring of Fire", Cash read a statement about his late wife that he had written shortly before taking the stage:
 "The spirit of June Carter overshadows me tonight with the love she had for me and the love I have for her. We connect somewhere between here and heaven. She came down for a short visit, I guess, from heaven to visit with me tonight to give me courage and inspiration like she always has"
He died within 4 months of her.
Lots of people would like a love like Johhny and June had...
So Marni Resort 2012/13...
Would you walk the line in it?
Queen Marie
x