Last week I made a mistake. A stupid, annoying mistake. I bought shoes from Office.
I never buy shoes from Office. Office is, for me, the worst place to buy shoes. Why? Because of their awful, outdated and unhelpful policy on refunds, which is basically that you can't get one. I prefer to have the option of returning my purchases should I change my mind, and get my money back, but when Office have your money, they damn well make sure they are keeping it. As I said, outdated and unhelpful.
So how did I end up buying shoes from Office? Weakness, that's why.
I've been searching for the longest time for the perfect pair of pointed toe, stiletto court shoes. Something undeniably sexy with a fair dose of vamp. Such shoes are hard to find sadly. I found a pair of ankle boots in Kurt Geiger that had the right amount of sexy, an amazing stiletto heel and pointed toe, but they only had a size 6 left, which I bought but had to concede they were just too big, so back they went.
I had tried everywhere and as a last resort I went into Office and saw a pair which seemed pretty damn close. Not entirely sexy ot vampy - they needed a bit more point on the toe and a higher, thinner heel to tick those boxes - but the cut seemed as close as I was going to get, even after extensive online searching. So on a crowded Saturday afternoon, when I couldn't even get a seat to try them on properly, I bought them.
Silly me. Silly, silly me.
I got them home and tried them on and realised they were dull, dull, dull. And not very well made. Absolute schoolboy error. So I returned them and now I was left with the dreaded credit note. I went back online and tried to see what I'd buy from the damn shop. There was only two avenues open to me - Underground England or Jeffrey Campbell.
My immediate response was to head for the Underground concession, but sadly they only had single sole creepers and I'm a dedicated double sole kinda gal, so that just left me Jeffrey Campbell. Please god no, not the Litas! Thankfully no. They had some lovely suede platforms in a variety of colours which I was actually quite happy to get.
A millions miles away from sexy or vampy, but I am fond of a 70's style shoe, and a shape I continually mean to buy when I have a hippy urge, which is more often than you might think.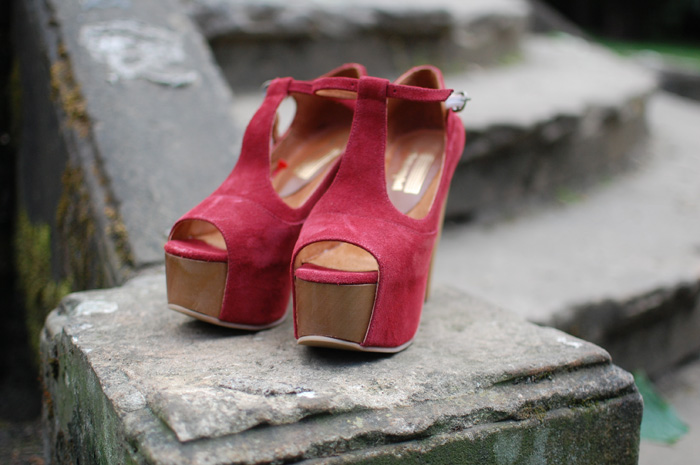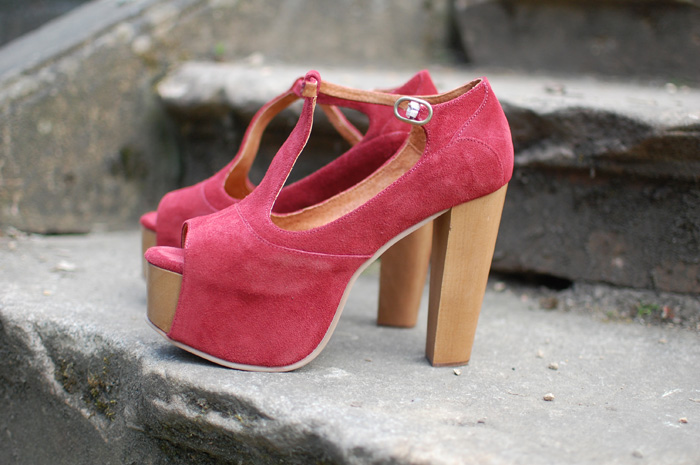 These are exceptionally comfortable, and work as well with jeans as they do skirts and dresses. It worked out quite well because realistically I'd never have made this purchase entirely voluntarily, so having my hand forced turned out to be a good thing. In my head, I can already see me wearing them with lovely warm knitted socks on dry winter days with librarian-eque cardigans.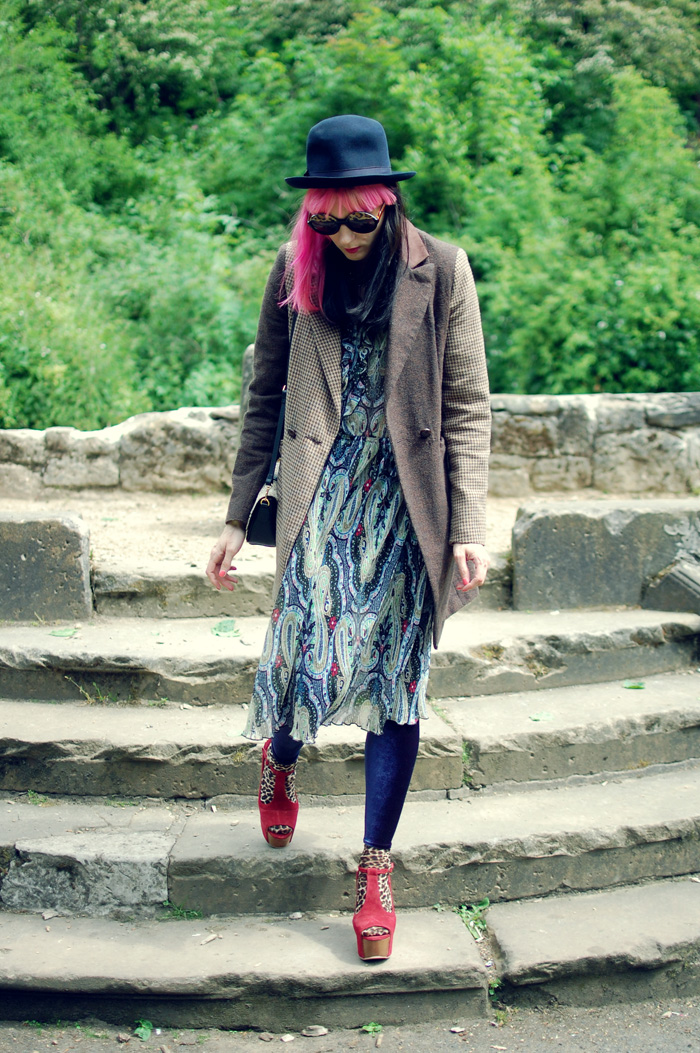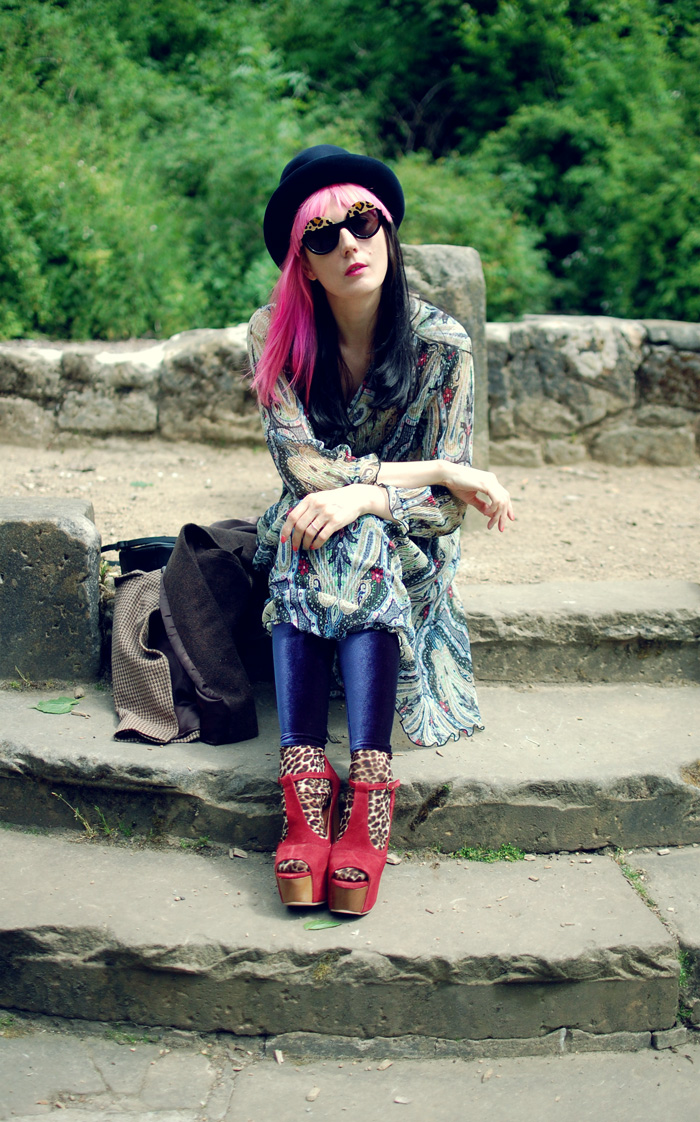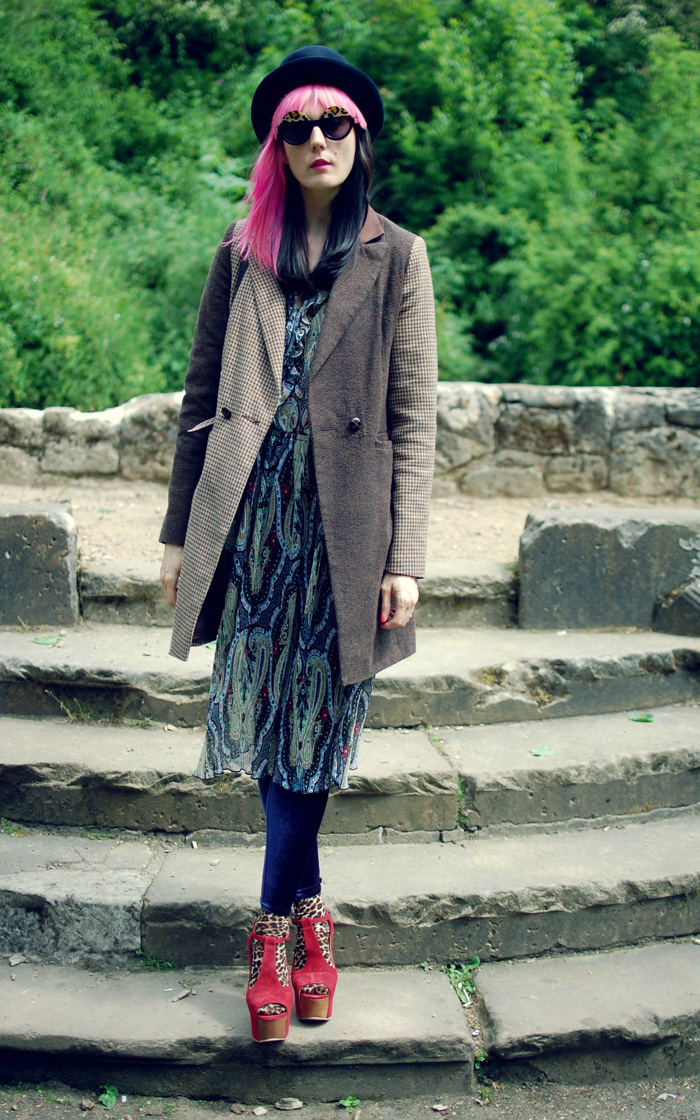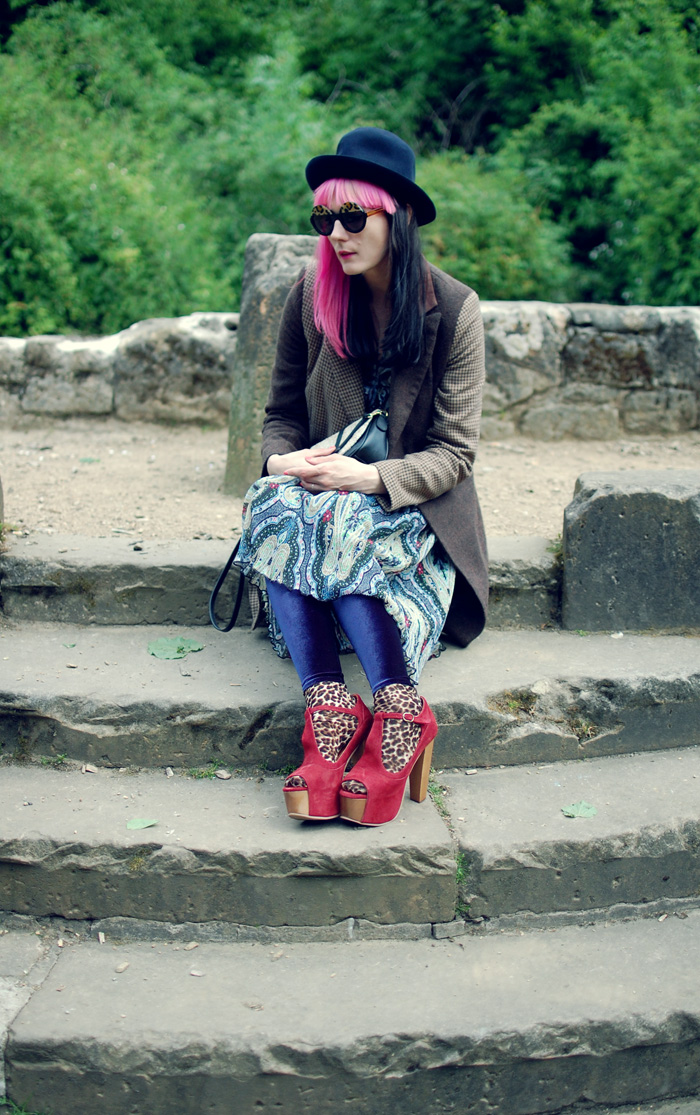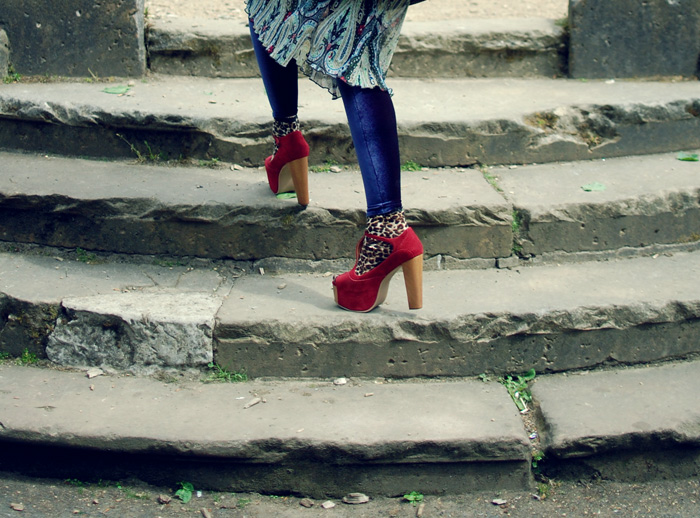 I revisited a paisley print 70's dress, which I've not worn since I cut off my hair a few years ago, and paired it with some blue velvet Black Milk leggings, leopard socks and ASOS tweed coat for a mix and match print fest.
Queen Michelle