I've said this many, many times, but I am often happiest in jeans and a t-shirt. It's a truely no fuss outfit option. But I am very picky about the t-shirt I chose for such a plain, pretty uninteresting outfit. Bands tees are always the best option, but I'm not always in the mood to loudly display my love of Metallica. That's where the plain tee comes in.
I have criteria for my plain tees.
The first is that they must be semi sheer. I really hate heavy cotton t-shirts. Light, almost transparent is always best.
Secondly, they must cover my arse. Unless the t-shirt has a design feature which isn't arse covering, I like them to be long enough to almost be dress length.
Thirdly, the cut must be loose. I can't bear tight or fitted t-shirts. Big and baggy is best.
But, these elements are hard to find. And do I do when I can't find what I want? I make it of course.
That's not strictly true. I don't make it, Jaggy Nettle make it. I mentioned my collaboration with Jaggy Nettle to create a my perfect tees recently, well this is the other design. Having hunted for the perfect oversized yet sheer tee endlessly, I decided to design one myself for the collaboration.
And so the Boyfriend Tee was born.
Imagine getting out of bed and pulling on your bf's well loved, worn out and battered black tee. That comforting feeling as his t-shirt envelopes your much smaller frame and instantly makes you feel super feminine. That's what I wanted to recreate.
It seems like a simple thing to create, but it actually went back and forth a few times before it was right - just the right length, the right neckline width, the right sleeves. But I'm really happy with it and for my simple jeans and t-shirt outfit, it's perfect.
It's not exactly jeans and t-shirt, but for me leather is as common in my wardrobe as denim, so it's my jeans and t-shirt.
This simple outfit consists of Topshop trousers; Balenciaga shoes; 7Chi bag; Zara coat; DIY beanie and Super sunglasses.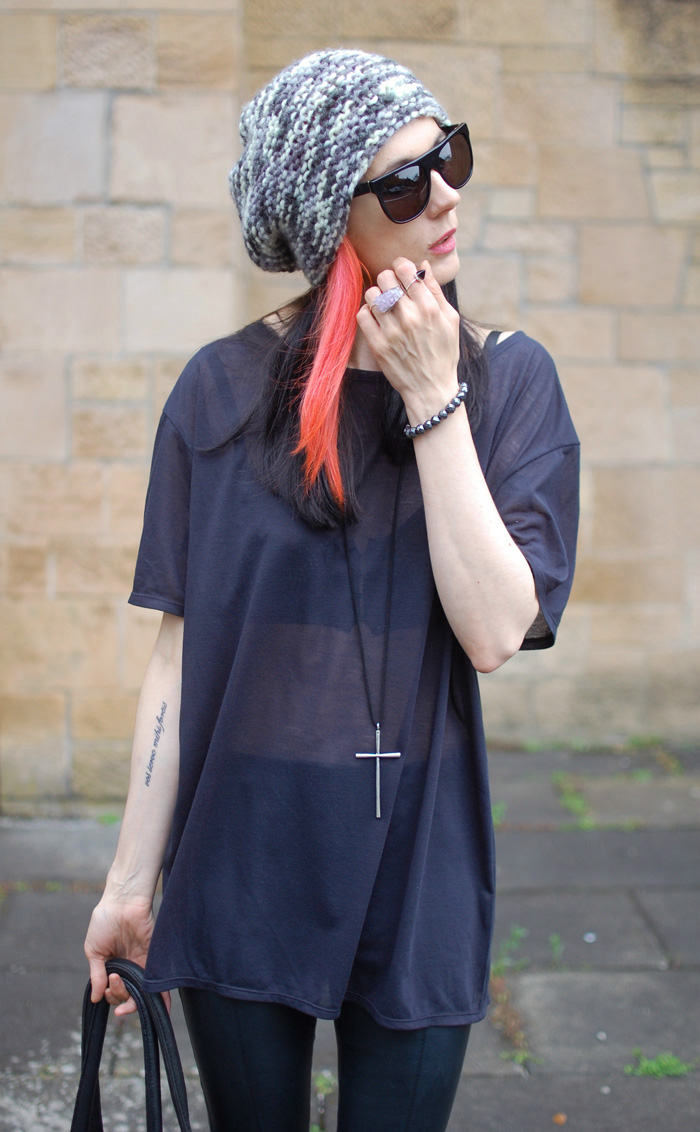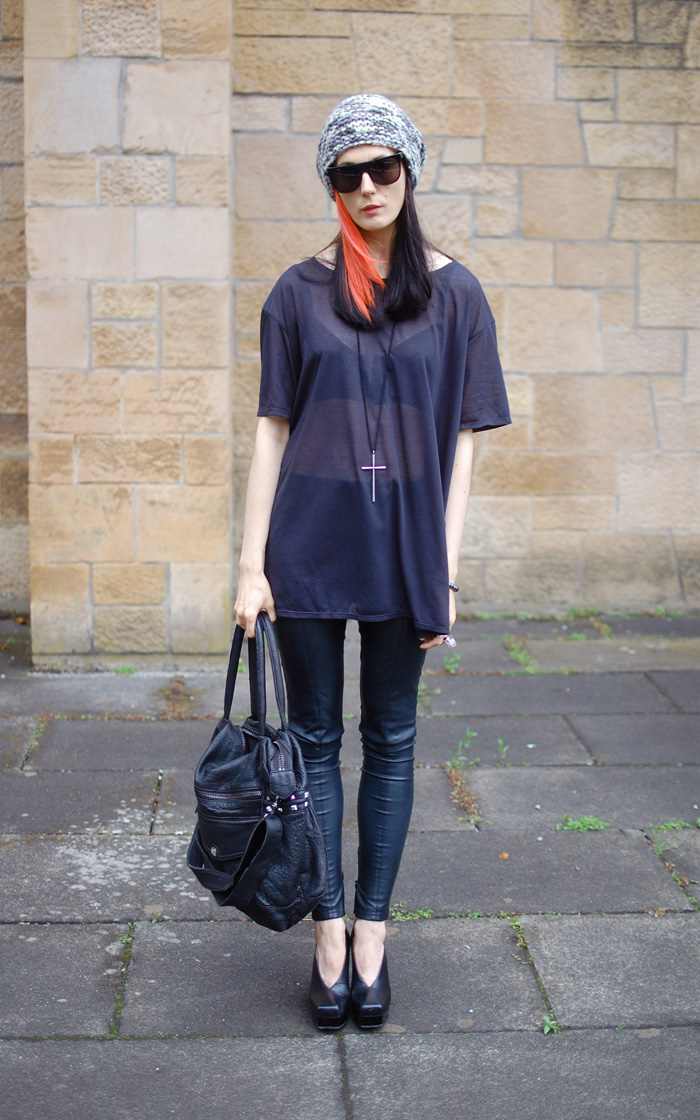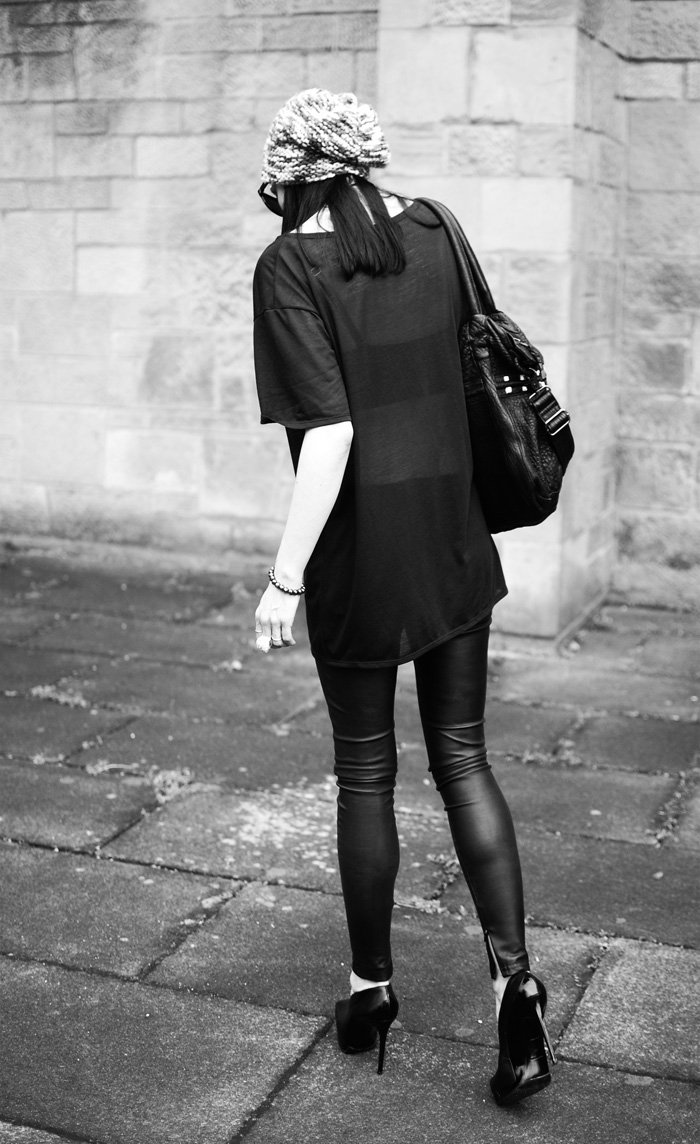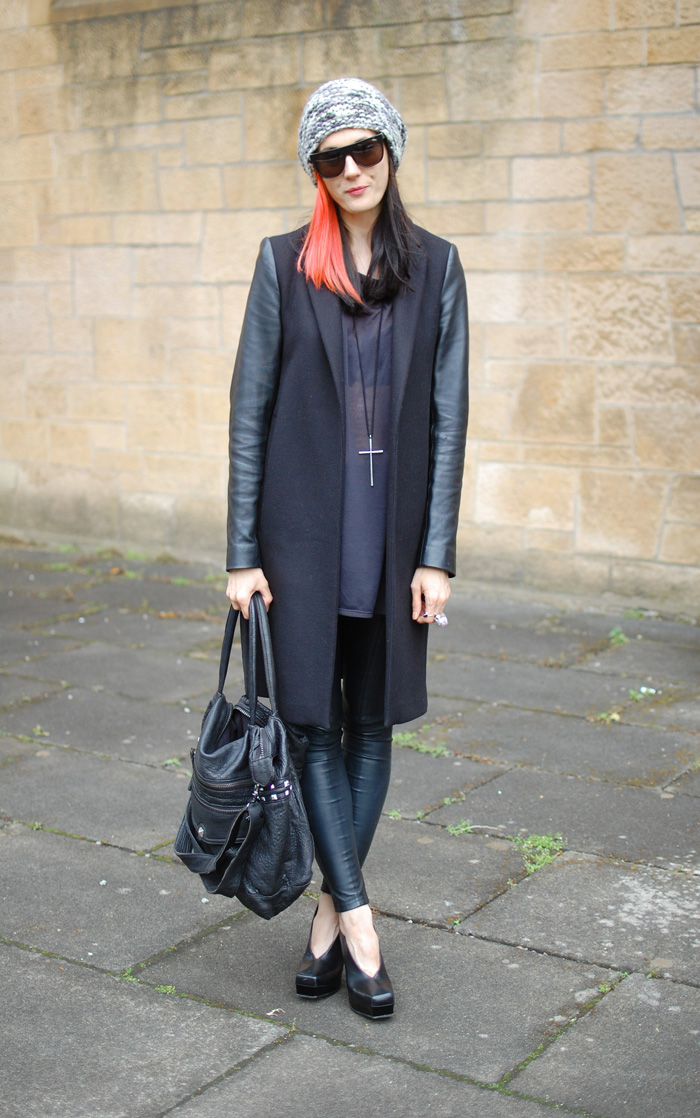 Next week, hopefully, Jaggy Nettle will be putting up some tees for sale on their site. The tees for sale are actually going to be printed, and we will release one print every few weeks. Each print will be available on a raised back tee and a BF tee, in white, navy and black, in small, medium and large. We might also put up the plain versions too but we haven't absolutely decided on that quite yet. I shall be featuring the first print next week.
Here I'm wearing the size medium.
Queen Michelle