The sunshine has well and truly hit the Kingdom. We haven't had it this hot for quite a few years and, as you can imagine, it's thrown up all sorts of what to wear issues for me, as someone who primarily lives in black jeans.
At work it's not so bad as you are indoors for the hottest part of the day, but come the weekend and, oh my, what to wear! Black jeans just wasn't workable.
For as long as I can remember I have hated getting my bare legs out in public. I remember being 13 years old on a very summer day, desperately trying to find something to wear so I wouldn't overheat on the walk up to my friend's house. Like now, back then I was always in black jeans but there was no way I would have survived that hot day. So, after much deliberation, I ended up baring my legs in a DIY tie bleached denim mini skirt and my Motorhead t-shirt. It was the first time I'd bared my legs since being a much younger girl and that walk up to my friends was one of the most uncomfortable ones I've ever experienced!
But the formula of t-shirt and short bottom half has stayed with me, but as I got older I discovered the joys of over knee socks and holdups, which serve to cover most of my legs.
I'd feel differently if I had lovely brown limbs, but pasty white and definitely Scottish is not a great look for me.
So with the sun shining even hotter on Sunday, it was time to get on the shorts and get out the legs. Some spotty holdups saved my bright blue/transparent skin being too much on show, but I admit that it was so hot eventually even they came off.
I found these old River Island crochet shorts, which I was thrilled to still fit into. I dug them out on friday to indulge in a bit of sunbathing in my living room, but decided to give them a proper airing. I'd forgotten just how much I really like them. With my Miista shoes, vintage quilted bag, 80's Anthrax t-shirt and, yes, that hat again, I tried to actually be quite feminine. I almost made it.
As the day wore on this got to warm to wear so off came the tee, and on went a loose Obesity & Speed tank and bikini top and off came the heels and on went the scruffy ankle boots. It was good while it lasted.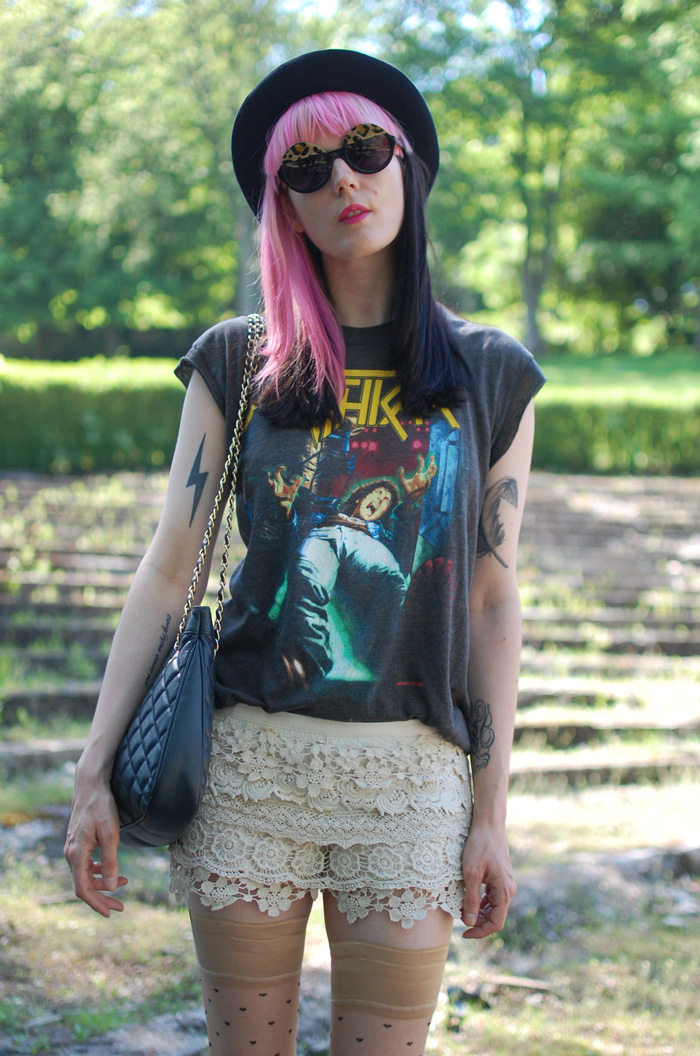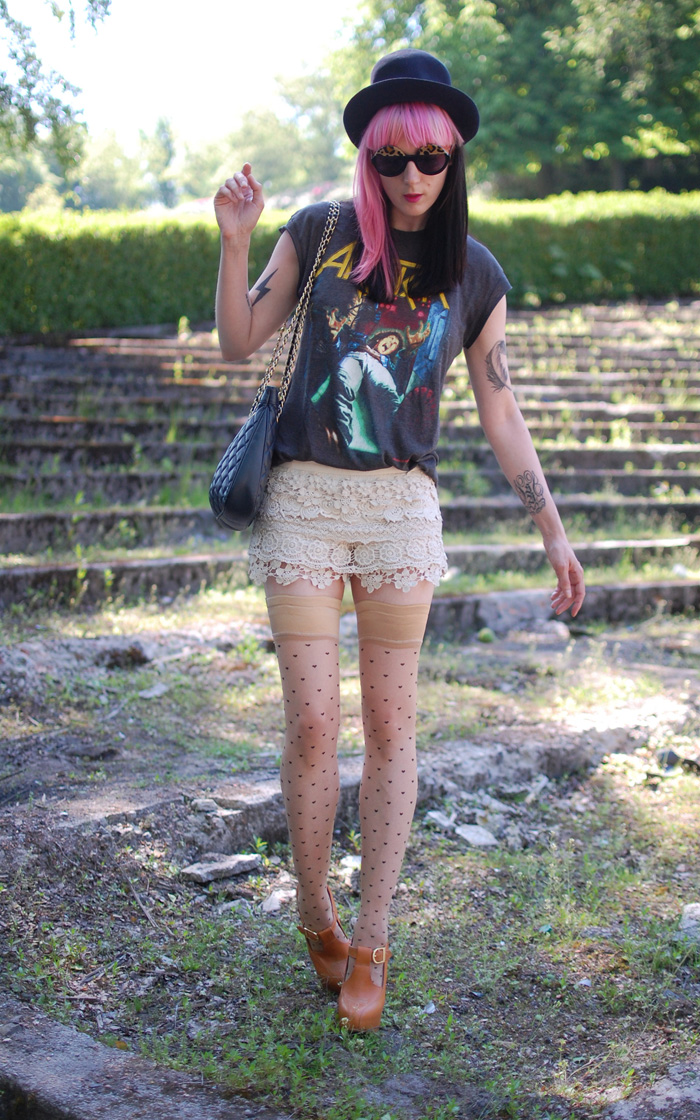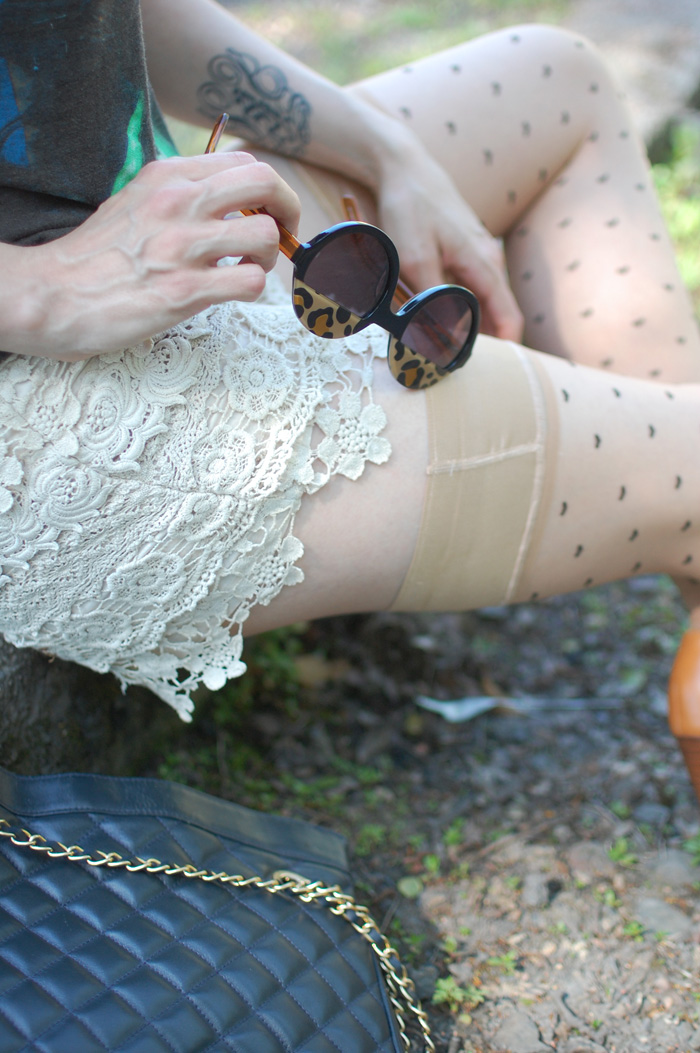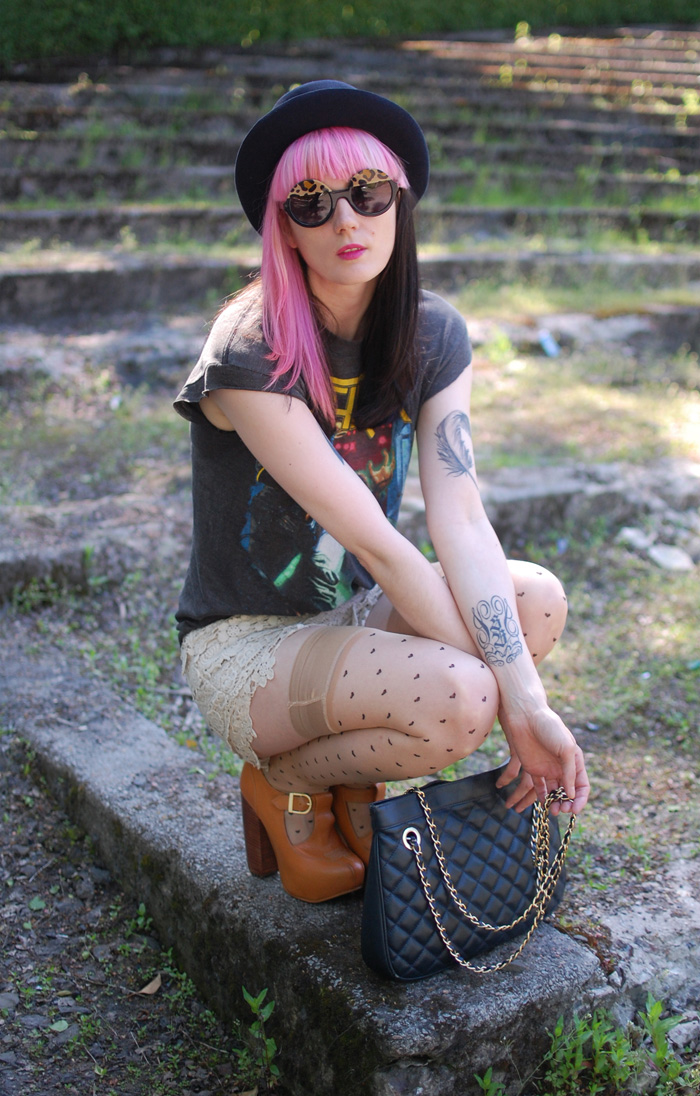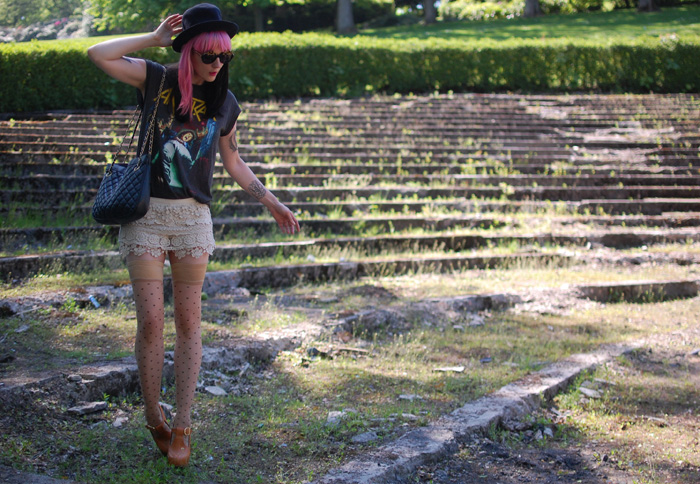 And my Instagram followers have seen these first, but my Ksubi sunglasses arrived last week and I literally have had them on every single day since. I LOVE them. They are the perfect mix of edgy and elegant and I am so glad I got the help to finally make them mine.
And I might actually have managed to get myself to a slightly darker shade of blue than before. Now I'm almost white.
Queen Michelle