Nothing makes me smile more than a clever advertising campaign.
Especially if it is carried out  in a multi-layered way.
So today I just want to start by sending some love to Lurpak!
Yes that Lurpak!
Lurpak is a Danish brand of butter owned by the Danish Dairy Board. It is sold in over 80 countries worldwide and is best known for its distinct silver packaging. Lurpak started in 1901 as a combination of several Danish dairy farmers to create a common brand for butter to increase sales.
In 1985 Lurpak launched a UK TV campaign featuring Douglas, a trombonist made from butter, trying to play a fast arpeggio. This was created by Aardman Animations and featured the voice of Penelope Keith. This ran for almost 20 years, until Lurpak repositioned with the "Good Food Deserves Lurpak" campaign, featuring the voice of Rutger Hauer.
Yesterday I went to open a new tub of Lurpak to make a delicious cheese toastie ans when I did, I laughed aloud. For there printed ont he silver foil was the immortal phrase - "I Will Repect the Crumpet"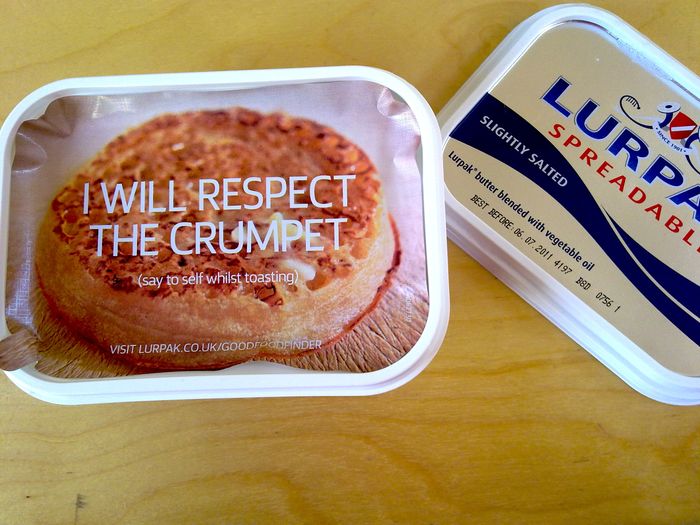 I would suggest the same goes for pancakes.
I am going to go and respect the hell out of a big pile right now, by topping them with butter and maple syrup
What will you respect today?
Queen Marie
x