It's funny sometimes when I look in my wardrobe - I see band t-shirts, studs, chains, harnesses, skin tight PVC and leather, I see lost of faux fur and frou frou, I see pink and girly stuff. I have pretty much all bases covered.
It's true that stylistically I'm probably known more as a 'rock chick/goth' type, and yes can frequently be seen in band t-shirt and tatty old jeans. But I can just as frequently be seen in really girly clothes. I am neither all one thing nor all another. I can change my look dramatically from day to day: heavily layered up in clashing prints ones day, PVC the next, pretty cream lace dress the next. So many looks to try out, so little time!
In a panic, a few weeks before the Fashion Awards, I nipped into this local boutique selling small independent labels as well as labels like Rare. I, for reasons not even know to myself, came out with a navy bubble hemmed chiffon dress with a massively ruffled bust area. It looked great on the hanger, but when I tried it on at home and my hair fell over the ruffles, I just looked like I had massive comedy-like boobs hiding under my hair! So back it went and I came home with the dreaded credit note.
I popped in the other day, as they were having a sale, and was rather taken with this lovely black chiffon dress/tunic with pink bows on it. I bet it's not the usual thing you'd think I'd buy huh? But it was so lovely I wore it yesterday with bright pink tights, Owlita earring, vintage hat and Carin Wester shoes.
But I suppose the feminine didn't last long - I also wore it with a Maharishi camouflage jacket.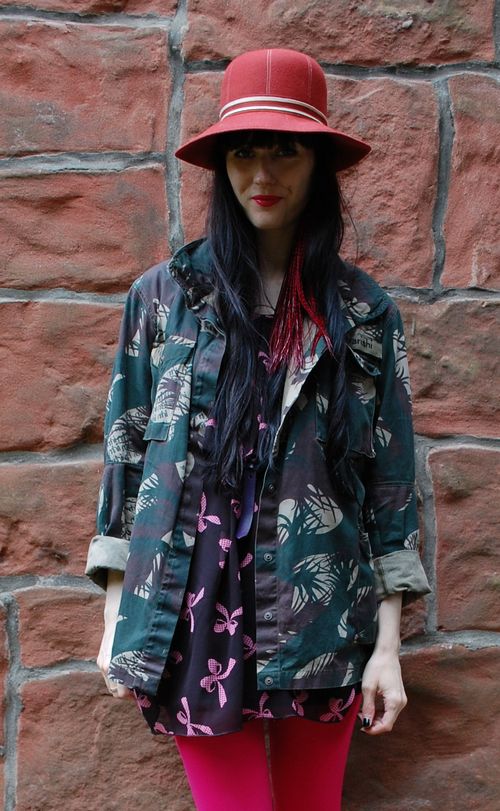 Maybe I've just subconsciously caught a bit of all this Miu Miu mania that's everywhere because I did feel I needed shoes in that clunky, almost maryjane style to make the outfit look correct.