I don't really swear much. In my head I do, frequently, but I don't usually say it out loud. Generally speaking if I do swear you know I am REALLY angry, apoplectic with rage most likely. I'm a laid back kinda gal and rarely feel the need to swear but sometimes, just sometimes, it wants to happen.
In such instances, where I wish to maintain my levels of self control but still express my inner potty mouth, I reckon I could use this set of Wendy Brandes for Francis rings to get my message across.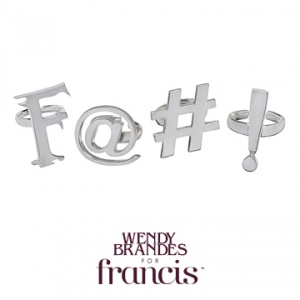 I could brandish it at anyone who pissed me off. Pretty much sums it up methinks!
Queen Michelle