Any PR/magazine person who has ever tried to get your Queens to attend gala dinners/blogger events/photoshoots etc will attest to we always say no thank you. Getting your old Queens to such things is a near impossible feat. Some PR companies now even begin their emails with "I know you'll say no but it's worth a try..."!
Logistics of working in the industry we work in means last minute deadlines are always looming, dogs need looking after and general life stuff means any trips we do take must be of our own doing with precision planning and in our own time - we can't drop everything for impromptu trips to London/Paris/Wherever.
When Annette from My Wardrobe contacted us a month or so ago to ask us to get involved in a competition they wanted to run during London Fashion Week our immediate response was, of course, sorry but no thanks. However Annette is a persistent little minx. She kept emailing us until, rather miraculously, we agreed. She basically wore us down with her pesky charm. As Queen Marie and I spoke on phone about it, finally deciding to go, we were both taken aback that someone had convinced us to actually get off our arses and plan this! "She's good!" we thought.
We said yes mostly because what was on offer seemed like a good old fashioned adventure for both us and the winners. Plus we were given plenty of time to arrange things (thank you to dearest Prince B for agreeing to take care of my dogs for me!).
The competition is to win a night at the Dorchester with a chum, £1000 to spend in My Wardobe and to attend the Twenty8Twelve show at London Fashion Week! If you win you get to go to My Wardobe and play dress up with us and we will take you to the show in the evening. How could anyone resist being let loose in My Wardobe HQ?! Think of the shoes!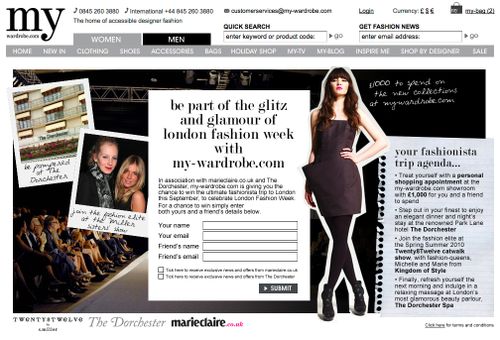 To enter the competition simply go to My Wardobe and enter you and your friends emails addresses. Simple! See you in London!
Queen Michelle