I'm not entitely sure how many male readers we have but the few, I assume, we do have will notice that menswear doesn't exactly feature heavily on here. I will write about labels that also have mens lines but I usually don't mention it because very often I feel the menswear simply isn't up to scratch or comparitive to the womenswear from the same designer.
Sadly, men are still getting a raw deal when it comes to boundary pushing design. Of course I completely realise that most men are not ready to wear leggings or tights without at least the safety of a pair of shorts or cropped trousers on top, which is absolutely fair enough.
Therefore whenever I have written about menswear I am coming from the perspective of a woman who'd wear those clothes, rather than entirely appreciating the clothes as clothes for men.
One designer I featured some time ago was Damir Doma. His designs I particularly appreciated because the silhouettes and fabrics he presented I found visually appealing for me and the fact he did explore quite feminine shapes and fabrics. Do you have to be a 6ft skinny boy to wear such things head  to toe? Probably, but I think there are items in there than most men could take away and make work into their own wardrobes, even if that wardrobe doesn't contain traditionally 'fashiony' items.
Damir's SS10 collection certainly didn't disappoint me in terms of Things I'd Steal If My Significant Other Owned Them'. He maintains the soft, billowing silhouette of his previous collections and lightens it up again with sheer and light fabrics and a neutral colour palette which is sliced with deep ruby red.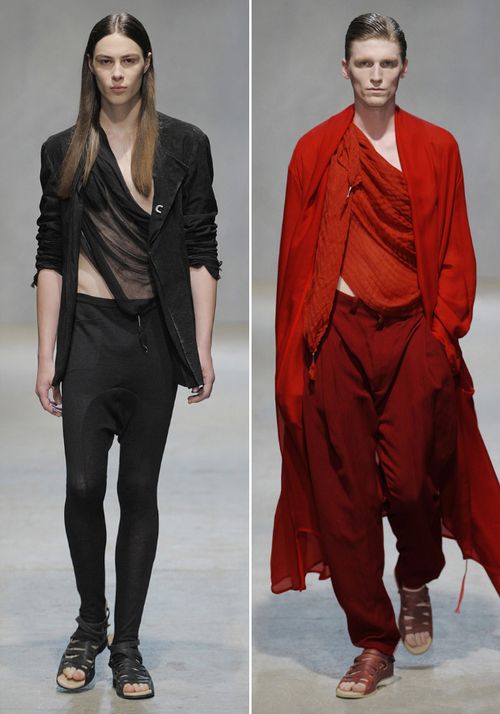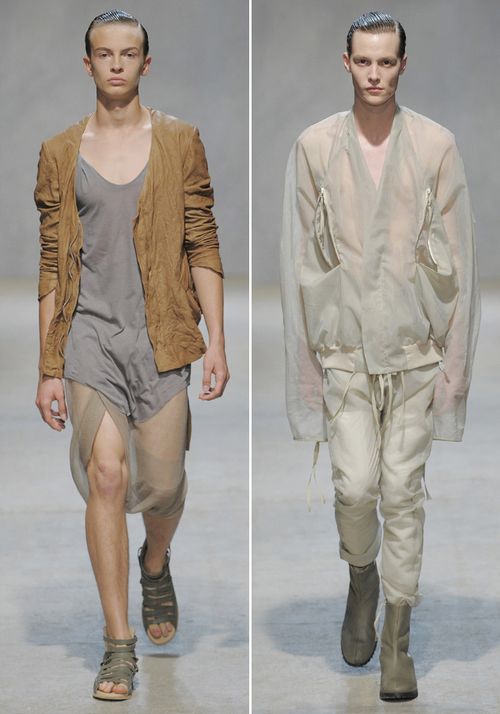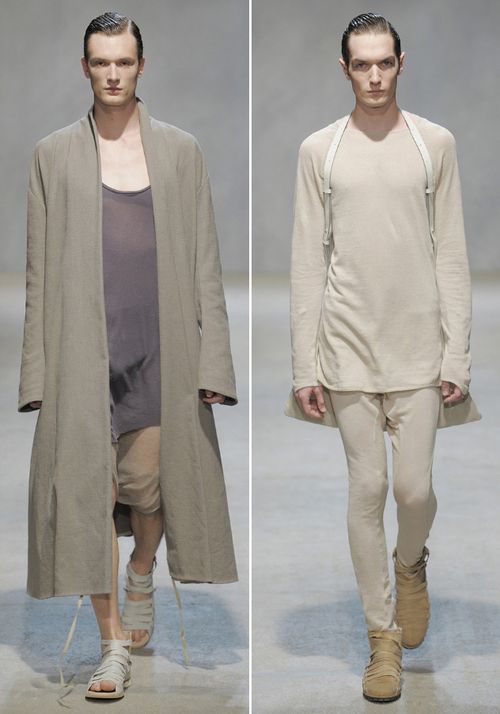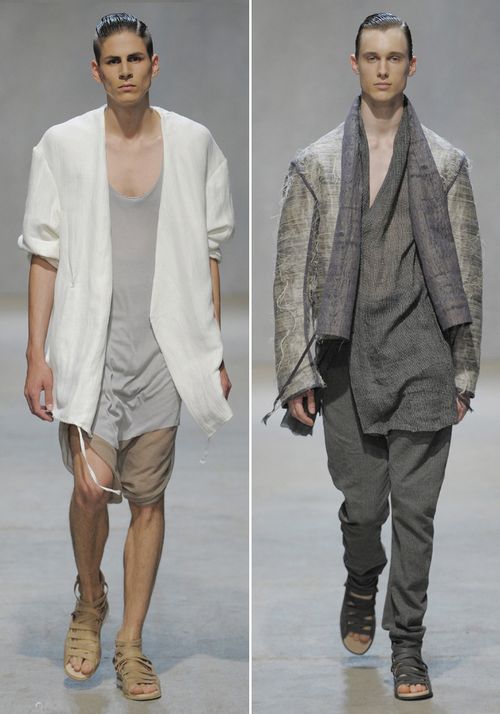 I would wear the sheer shorts which would look beautiful layered over leather or some other visually harder fabric, the black sheer draped top in the first photo and those gorgeous red trousers.
Presented all together like this it would frighten most 'non-fashion' men but take some things out this particular context and you have do really wearable things: the soft crumpled leather jacket, the black unstructured blazer, loose grey trousers and light as air tops - all these things would work with a great deal of the 'average' male wardrobe.
Queen Michelle