I think I have made my appreciation of feathers quite plain by now. Capes of feathers, skirts of feathers, headdresses of feathers, cuffs of feathers. Feathers, feathers, feathers.
When I clocked eyes on the head adornments at Lanvin I was smitten*. Cascading plumes of feathers in my hair is what I need.
When I recieved and email from Reid about her work RP/ENCORE I was intrigued. Reid is a taxidermist and wants to challenge our perceptions of how we wear animals and view the animals normally considered vermin.
She taxidermys rodents and pigeons and uses them as centre pieces for jewellery. I think mice, pigeons and rats are beautiful creatures yet they carry disease and can be dangerous. There's this strange natural contradiction surrounding such animals and I like that Reid has explored that idea:
"RP/ENCORE challenges our attitudes towards fur, leather and waste.  In a world where leather is worn with out question by most, and replaced by un-biodegradable plastics by the rest, it is ironic that the image of an animal preserved using taxidermy is still enough to cause widespread outrage and fist banging. It is for this reason I taxidermy the prolific, consequential vermin result of London's excess.  A member of the UK's Guild of Taxidermists, I use both traditional and alternative methods of taxidermy to preserve and embellish creatures that are widely thought disgusting and unnecessary. When they become sculptural headpieces, necklaces and cuff-links, the specimens cease to be waste and become objects to behold. RP/ENCORE makes use of the city's leftovers."

"Being a vegetarian, all animals used in my work are either roadkill, caught by my cat, from a local City Farm, or "snake food" (bought frozen from a pet shop, with the remainders fed to my cat Panasonic).  I use sterling silver in conjunction with Swarovski Crystal Elements, semi-precious stones (garnets etc) and precious stones (rubies)."

When I looked at her photos my initial response was raw and confused. I freely admit I'm not quite ready to have a real mouse hanging around my neck. However, I was drawn to her winged pieces. I can't say why I find this easier to deal with than the mouse for example, but I just can.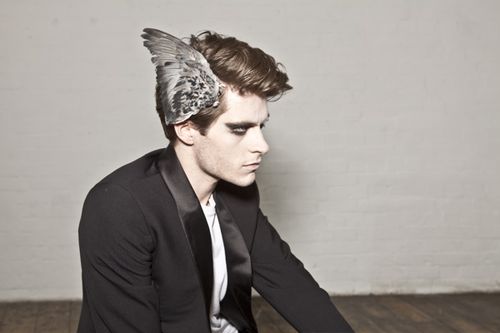 Whatever I feel about the mice on necklaces, I truly admire her bravery in trying to change people's ideas of both taxidermy and the animals we call vermin. Make of it what you will.
*that goes out to you Sister Wolf!
Queen Michelle