On Saturday the fashion bartering system came across with some major excitement. Especially as it wasn't ever meant to be a barter at all.
I was happily able to do a wee favour for Braganza HQ. Naturally I wasn't expecting anything at all in return but on Saturday they gifted me a bag of goodies that had me having to stop myself from squealing/crying as I looked through the bag. "Be cool Michelle. Be cool", I kept saying to myself as I looked at the exceptionally generous package placed before me. Like I said, I had no intention of expecting anything in return but I can safely say I came away with the better deal! I'm going to move house now incase they realise and come and take them back!!! Too late guys - I'm off!!!
These light grey trousers are utterly amazing. They have vaguely bondage-esque strapping detail which snakes around the upper thigh giving the illusion of a jodhpur shape but without being at the expense of flattering ones thighs.

Topshop t-shirt/LaRare shoes/Jean Pierre Braganza Trousers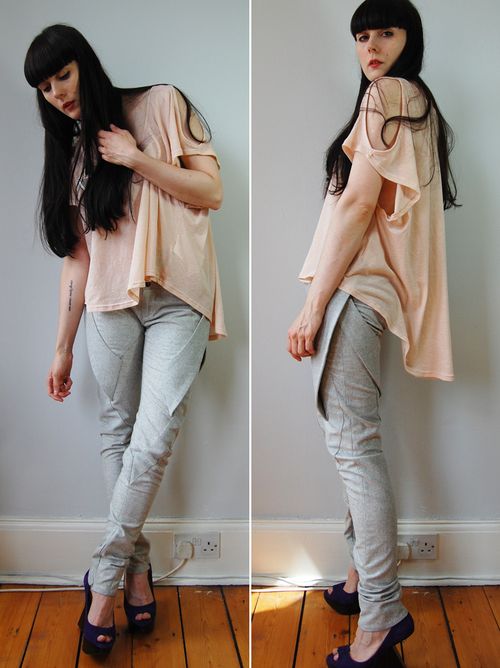 This cropped white jacket has zips all the way up the inside of the sleeve which is such a simple but effective detail. I teamed it with a plain grey jersey dress and my new cage skirt from Angie, who made it in a beautiful grey tweed with a bigger zip and stud details for me. I love it even more than the last one, and with the extra horizontal strap I requested this skirt sits perfectly.

Random dress/Norwegian Wood skirt/Aldo shoes/Jean Pierre Braganza jacket
I love this blouse. My photographs don't do it, or any of these pieces, justice as there are so many little design features like shoulder flaps and origami folds at the bottom which makes the waist appear slimmer. JPB clothes are the sartorial equivalent of pop-up books - you don't notice the details when they are flat, it's only when you actually put them on that all the design details pop up and give everything a 3 dimensional element.

DIY neckpiece/River Island fringed trousers/Givenchy wedges/Jean Pierre Braganza blouse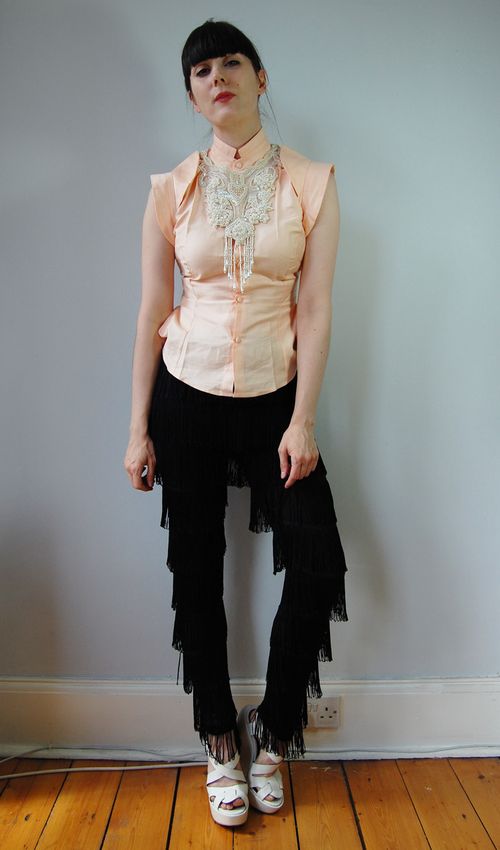 I was gifted this grey top ages ago by the lovely Isabel from Catwalk Queen. It had been her wardrobe unworn and she thought I could use it so she posted it my way. I was waiting for the right items to pair it with and now I have found them - the most perfect pair of JPB navy satin trousers which fit beautifully, and Angie's shoulder pad harness which I will wear this way as well as back to front.
When I was about 9 years old I wore these shiny blue satin trousers all the time. I loved them. Well, these trousers are the 36 year old me equivalent.

Gifted top/DIY pvc peplum/Norwegian Wood harness/Jean Pierre Braganza trousers/LaRare boots/thrifted necklace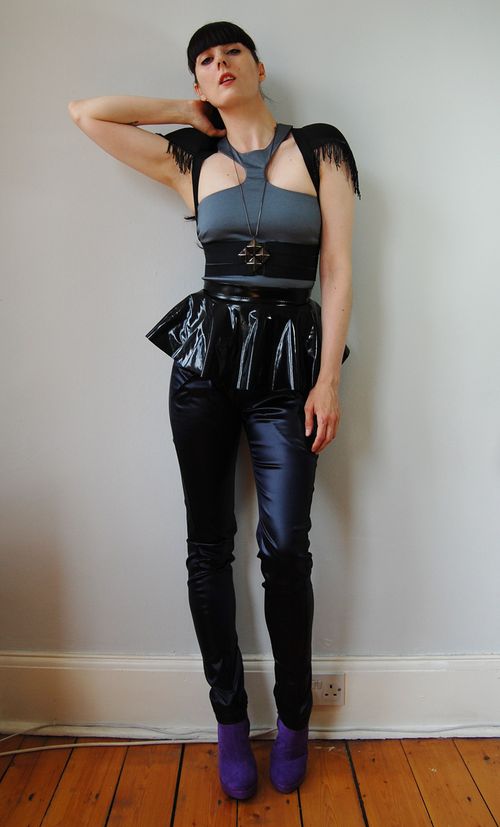 This draped printed tee is deceptively intricately cut - I simply can't fathom the pattern. As with many of the most seemingly simple draped tops by JPB they are never what they appear. This dips low at the front and is cut very high at the back and has assymetric sleeves. This is something I will wonder how I ever managed to live without.

Etsy necklace/Stolen Girlfriends Club leggings/M&S vest/Aldo shoes
And of course, I will be wearing it back to front as well.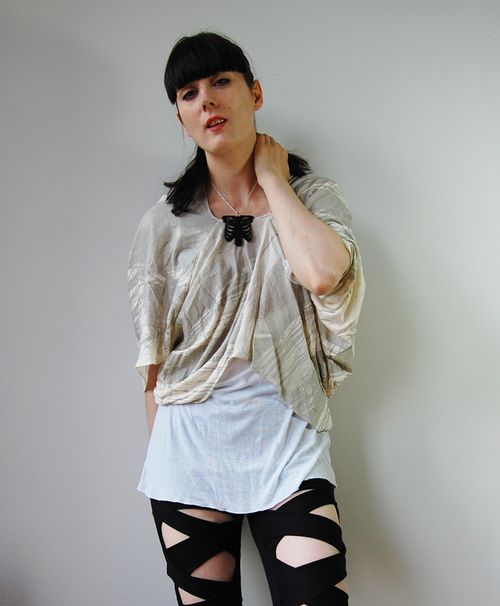 Thank you JP and Lady J, you made an old Queen very happy indeed!
Queen Michelle