Not everyone can gets access to graduate collections up close and personal. It'd be great to go along and experience their work first hand and try on their work to get a sense of what graduates are trying to express, and whether that creativity is expressed in a way which could be commercial.
However the London College of Fashion have addressed this issue, in a small way at least, by allowing visiters to their site to use an application called Schway, which lets you dress up a mannequin in the looks they have put on their site.
It's an application we have seen in various online retailers, such as H&M, but it's the first time a college has taken the step to make their students work more accessible.
They explain it better than me. I just wanted to play!
London College of Fashion lets the world interact with their latest collection via the Schway app on social media.

The London College of Fashion BA (Hons) Fashion Design and Realisation graduates have been pioneering the realisation of their designs in the digital world. This opportunity is offered by Schway the new online fashion application that allows users to mix and match outfits virtually from a growing array of retailers and facilitate purchase on the retailers' sites.

"Schway provided the students with an excellent online platform to showcase their talent. With the online fashion sales growth far exceeding that of the traditional stores, we are looking to provide a digital experience that lets consumers co-create their look from the beautiful pieces our students have created" says Dr Julia Wolny, Course Leader at LCF and online fashion marketing expert.

The collection is live on the London College of Fashion website today and is also available alongside high street collections on Facebook.

Eamonn Clarke, Managing Director of Schway has said "The Schway way means that anyone can get close and personal to the designers' latest creations and interact with them – something that, in the past, would have been the preserve of a chosen few attending the show".

The photography for the launch is being sponsored by Fashshot and footwear has been kindly provided by Office.

The online showcase will be live until 30 September, but the collaboration between Schway and LCF is set to continue. The next project will involve the whole Part Time portfolio of courses, including Fashion Business and Fashion Media, showcasing a sustainable collection developed as part of a DEFRA initiative.


And play I did. It's a great way to waste time at work!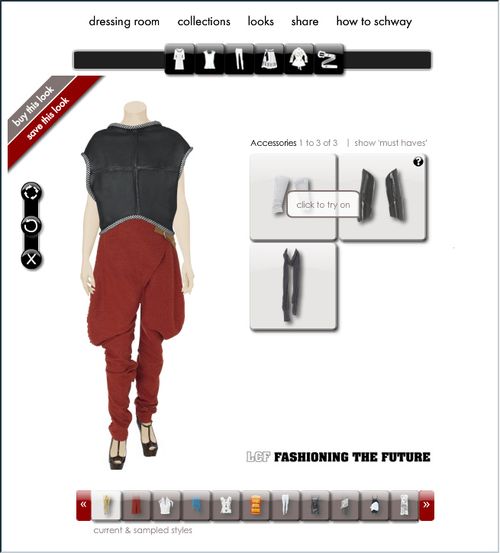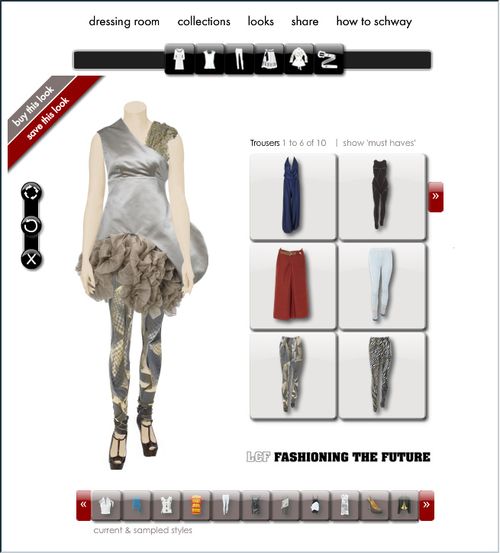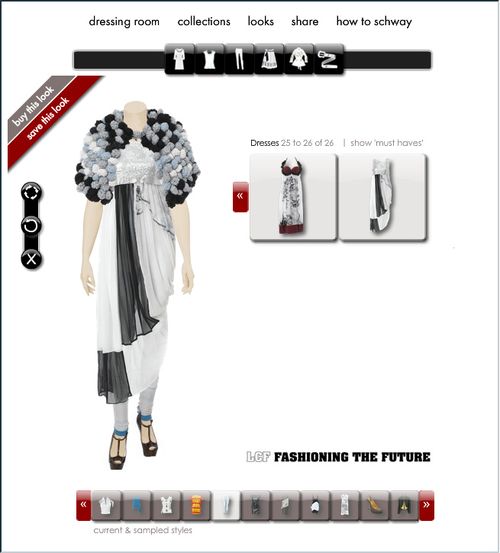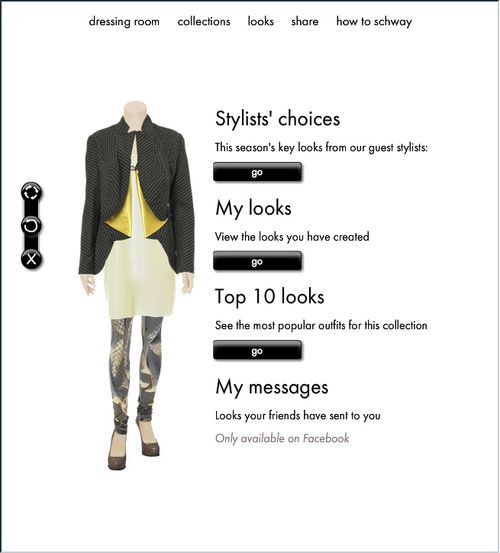 Currently it's only the part time course which are featured but I hope they consider extending it to the full time courses too, as that's where we will get to interact with the designers of the future.
They have a Buy This Look facility but when I clicked on it, apart from the shoes, it came up with a page error so don't know if that's still in development or if you can just buy some things. That aspect could be made clearer. With sites like Not Just A Label opening up a shop, having a buy facility is probably the most important opportunity they could offer for both the student and the college.
Overall, this idea is a great way to get the graduates work to a wider audience.
Queen Michelle