Being in your mid-late 30's is a funny age to be. Actually in some respects it's a nightmare age to be.
Mostly because of the 80's.
If you're over 40 the chances are all the dreadful 80's fashions passed you by because you were old enough to know better and not indulge in them to any great degree, and obviously under 30 you were too young to remember, or not even born. But us 30-somethings, well, we were teenagers in the 80's and essentially sponges for all the hideous fashion that era spawned. Oh yes, we soaked up all the 80's fads with gay abandon.
Then, like now, I was more than happy to try anything at all in terms of fashion. I left no stone unturned, no fad unexplored. I tried it all. Sometimes all at once. You know it's bad when the best you ever looked in the 80's was when you wore pointed stiletto ankle boots, drainpipes and a too-big, patchwork, biker jacket.
I was thinking about this the other night. I was talking to Prince B about sweets I loved when I was young and he is the only person I have ever met who remembers Pink Panthers - a strawberry flavoured chocolate shaped like, you guessed it, Pink Panther. It got me thinking about what I wore too. There were those green, blue or red transparent plastic visors everyone used to wear for some stupid reason (no, I don't welcome with open arms their current moment in the limelight), Scholl sandals, quilted body warmers, maaaaasive batwing jumpers and then there were the jeans. Oh the jeans.
For a, mercifully, short spell there were blue jeans with patterns woven through them in darker denim. But it lasted long enough for me to get some with pinstripes, roses and snakeskin patterns. Thinking about those jeans it came to me that that's perhaps where my fear of the animal print comes from. That, and the fact that me wearing animal print could veer dangerously into two possible territories: prostitute or crazy old lady. Neither especially appealing.
Put me in leopard print and I know I'd look like a scrawny crack ho. This is why my sudden reconsideration of animal print is so disturbing. I realise that currently it's only the zebra print that has made any real impression on me, but really that's Animal Print Lite as it's just warped stripes.
Imagine my shock when I recieved an email from Brooke Roberts showing me her collection which has snakeprint...and I liked it! It's not just subtle snakeskin (if there is such a thing) but full-on, pointy, 80's, in-yer-face, snakeskin print.
"Hi My name's Queen Michelle and I fell off the wagon and had some Snakeskin after being sober for 30 years".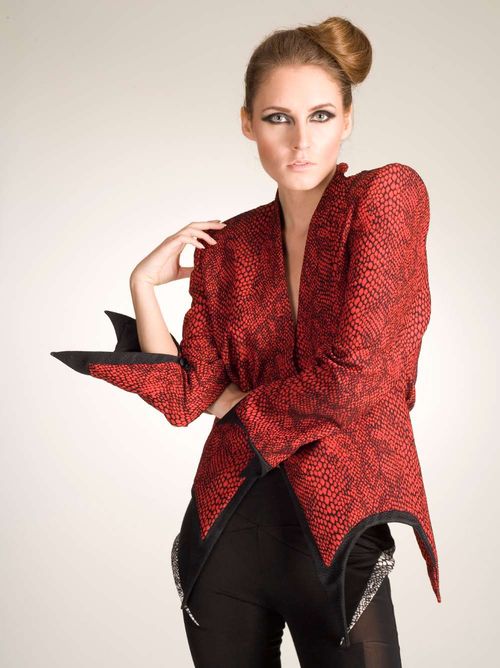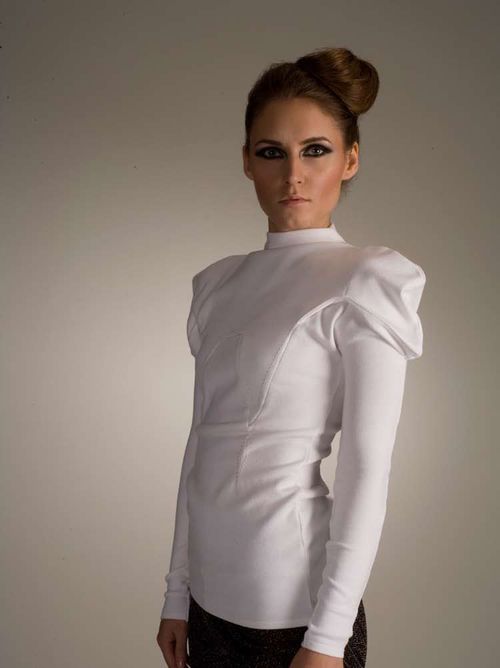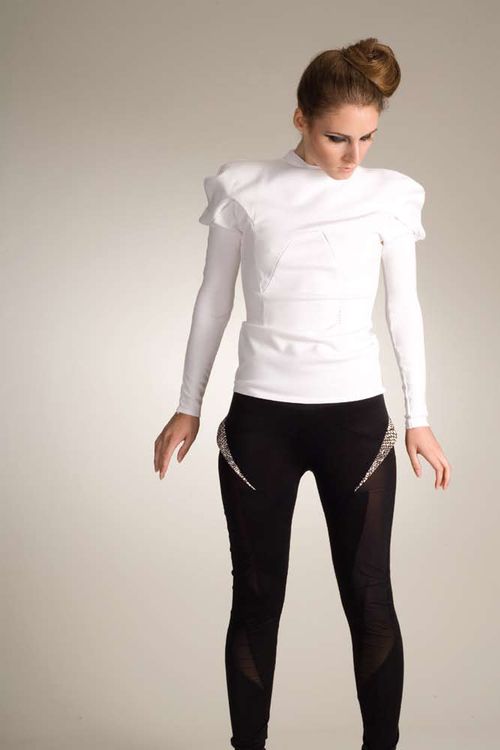 So one of two things is happening here: either I'm suffering some mental degenerative disease which sees me regress back to my teens (I'm listening to Jump In The Fire by Metallica as I type this) or, Brooke has created the print to have some kind of hypnotic device installed into the garment which makes me think I could really wear a pointy, 80's red, snakeskin jacket and look..not like a hooker or OAP. 'fess up Roberts.
Maybe this special device the devious little minx has definitely deployed has given me some kind of sartorial equivalent to beer googles - animal print googles? But whatever it is I want that red jacket and I want to wear it with drainpipe jeans, pointed stiletto ankle boots and a too-big biker jacket of patchwork.
Oh yes.
Queen Michelle