I must apologise for my posts of late. They have at times been very short, very dull and with lots of spelling and grammatical errors (as pointed by the eagle eyed Bluehammer). I simply have very little time to give them my full attention, well certainly not as full as I'd like. Being jobless certainly had it's plus points - namely I could trawl the web all day long for inspiration!
I am also trying to meet deadlines here, there and everywhere as well as stopping myself from having a mini attack of overly dramatic hysteria with regards what to pack for my trip to London next week. We are limiting ourselves to one small suitcase so I will need to be thinking very carefully about what to take and it's giving me the fear, since I have form for packing all the wrong things!
Anyway the upshot is that I am going to be doing lots of "oooh look at these pretty dresses" kind of posts between now and next Wednesday!
I must admit that Italian label Pollini was never really on my radar until fellow Scot Jonathon Saunders became creative director last year.
He has injected a dose of his much needed signature bold colour and print. The label's appointing of Nicholas Kirkwood for their shoes was also a stroke of genius, lending the label some much needed edge.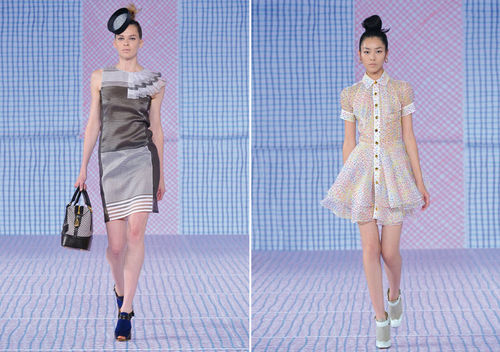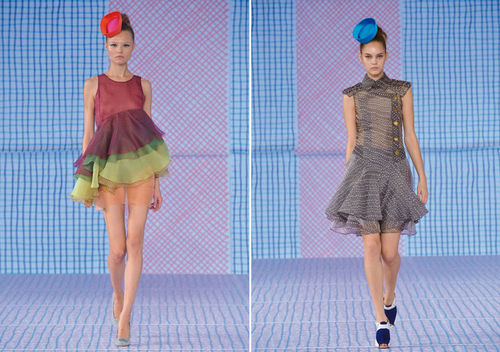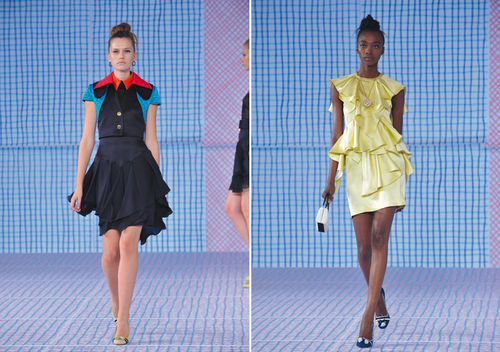 Whilst I never really went for Saunders' Topshop collection, his own label does appeal to my love of graphic prints and statement colour. What he has done for Pollini's SS09 collection is completely amazing, with plenty of girly frocks with fluid ruffles and flippy tiers in semi-sheer chiffon and silk.
I also love the way the hair was done since I have been experimenting with a 'donut', with little success so far seeing as I have no place to put the rest of my very thick hair once I have pulled it through the donut! But I will persevere none the less as I want some kind of up-do happening on my dome!
Queen Michelle