Mirror Mirror on the wall
Who is the fairest of them all...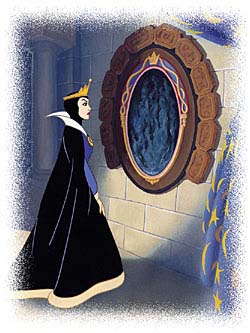 Even the
Wicked Queen
herself would have problems seeing much in the mirror below.
It is a brooch by Mikey, which I got when Queen Michelle got her lovely ring last week. I always think Mikey stuff is overpriced. The full price of this was £18 ! Would I pay that?  No of course not!, but I was quite happy to hand over a fiver.
Of course in typical fashion, I have added it to some black grosgrain ribbon and voila a necklace for for a
Good Queen...