Higher and higher. Heels! I have been loving these insane wedges by the wonderful Giuseppe Zanotti.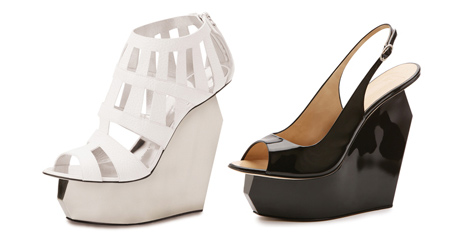 The white ones are simply heaven in a shoe.
I find myself more and more drawn to extreme shoes. Not just in terms of height, although that is addictive because once you master a pair that feel too high at first but soon become normal, the temptation is alway to conquer the next height, but also in terms of bizarre, architectural details that, more than likely, render them impossible to wear. Perhaps it's wanting to own something so very precious that you are happy just looking at it, even if you can't wear it, and since shoes are more financially reachable than couture, it's a way of achieving that. Of course, I still wouldn't, couldn't, drop £600 on shoes but still, it's a nice fashion fantasy.
There is definitely something very satisfying about looking down at your feet clad in lovely new shoes, especially since they very often look best when seen from above.
I picked up a copy of Vogue and saw the white shoes in action. Absolutely glorious.
I also realise that I only own one single pair of patent leather shoes. Not sure why that is really. But since my Prince lent me his credit card to buy the grey ASOS ones, that will go up to 2 pairs by tomorrow hopefully.
Queen Michelle