In an attempt to help clarify the whole Two Queens/One Kingdom situation, we are going to take it in turns to answer some questions.  By our answers it should be crystal clear, that when it comes to style, Queen Michelle and I are somewhat different to say the least.
Thank you for your questions and I hope this helps...
Who (or what) was your first love?
A boy called Brian .  I should really confirm this with The Grand Empress Gillian, as when it comes to my past, I have what she calls 'boy amnesia'  I never look back and struggle to remember what happened and with whom. She is the touchstone for my past and knows where
all the bodies are buried.
Obviously my love of the sequin and of dancing are lifelong...
Let's just say the fear of turning forty, has been faced and left behind in the dirt...
I work in a small design and marketing company.  I basically boss everyone about.  I deal with clients to help them understand what they want and need. Then I scamp up ideas and write the copy while the designers do their magic.  LA says I make 'the fairy dust' but then he has also told me, he could 'get a monkey to do what you do'
Where abouts do you live?
I live in East Kilbride, which is outside Glasgow, in a house filled to the brim with shoes and sequins.
What was your first designer purchase?
A Georgina Von Etzdorf silk skirt . Which needless to say I have never worn. I feel another binbag mountain coming on!
First designer shoes were gucci mules.  They were so pretty, they sat on top of their box in front of my TV for about a month before I got up the nerve to wear them and tarnish the perfect soles
Which animals inspire you stylistically?
Obviously the Panda!  no one else works the whole black and white vibe quite so well.
Running a close second would be a wolf especially for their ears.
I have said it many times, but oh how I wish I had ears...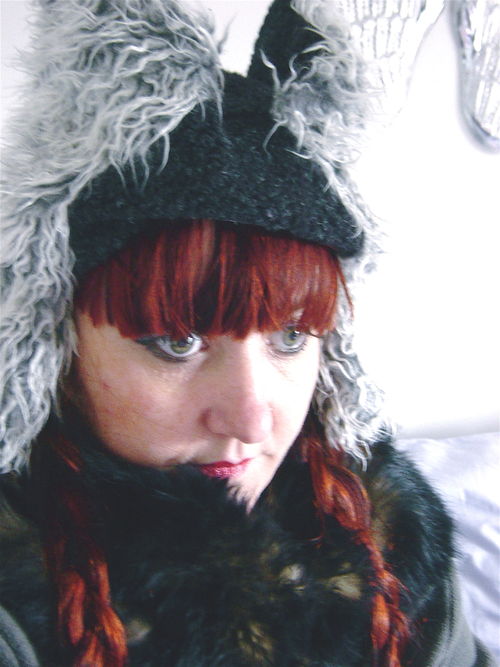 What's your favorite thing about yourself? Least favorite? Physically or
My most favourite thing would be my imagination and intuition. Least favourite is my capacity for self-pity and lack of self worth.
Physically I like my mouth and my hair.  Not too keen on my legs, which is why I keep them covered and out of sight.
What is you biggest fashion fetish? (etc. shoes, dresses)?
I have left no fetish unturned over the years.  Bags, Shoes, Dresses, Scarves, but perhaps my biggest weakness was and still is Coats and Jackets. New?  Vintage?  I can't resist any of them.  Holy Crap, I can't begin to tell you how many I have.
Black or milk chocolate?:)
Any chocolate is good chocolate.  Except for Double Deckers and Wagon Wheels.  Bleugh.
How long ago and how did you meet Queen Michelle? Can you tell us more about
We met, we think! in 96/97 when she came to join the company where I worked. Oddly though it seems as though we have known each other much longer.
We have been through a lot together but our love of 'the fashion' keeps us going
What are your hobbies besides fashion and blogging?
Does sleeping count?  I love my bed.  I love gardening and dancing and going out to play...
Is your hair naturally red?
I have been using henna on my hair since I was 17, which is when I started to go grey!  Thanks to my Dad's side of the family, I would have been totally grey by the time I was about 23!!!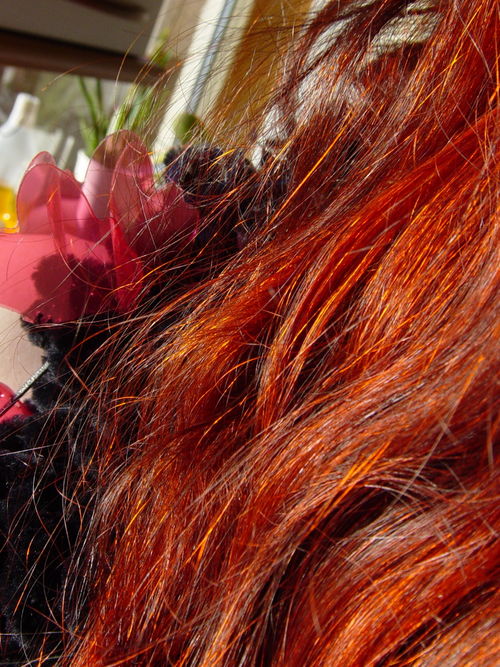 Not too sure what this question means!  I came first in the respect that I am older, but we created the Kingdom and crowned ourselves together at the same time.
I lived in the flat below her until about a year and a half ago.  It was wonderful.  We popped up and downstairs all day and all night, showing off purchases, sharing cakes and steak bakes. The close was also a favourite backdrop for taking shots.  This one I took of QM, is one of my favourites.  She looks like a Degas ballet dancer.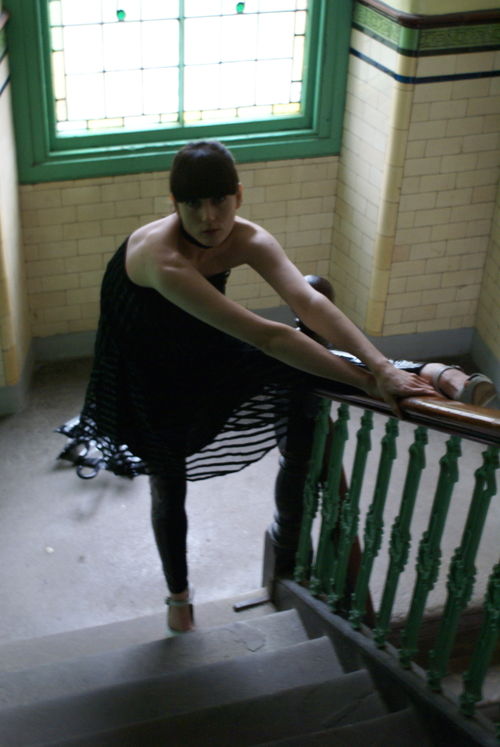 In all honesty, I wish I had never moved, but the flat was rented and had problems.  Rat and Squirrel problems.  They broke in from the woods behind us and made me a nervous wreck.
Paper or plastic or bring your own bag?
Oooh controversial.  I posted about this once and got my head in my hands to play with.  For all of those who accused me of 'killing the planet', you will be gratified to learn that I now try really hard to take a reuseable carrier bag when I go to the shops...
What are your top 5 treasured items in life?
My health, my family, my friends, my mind, my garden.
When it comes to things...
My Prada sandals.  It took me a long time but eventually they were mine!!!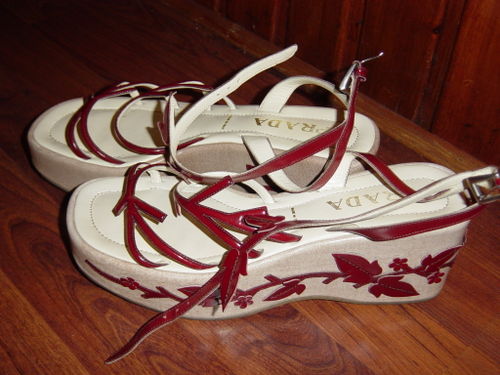 This portrait, painted for my birthday by Queen Horror many years ago.  I love it because it is me, in my happy dress at a happy time in my life ...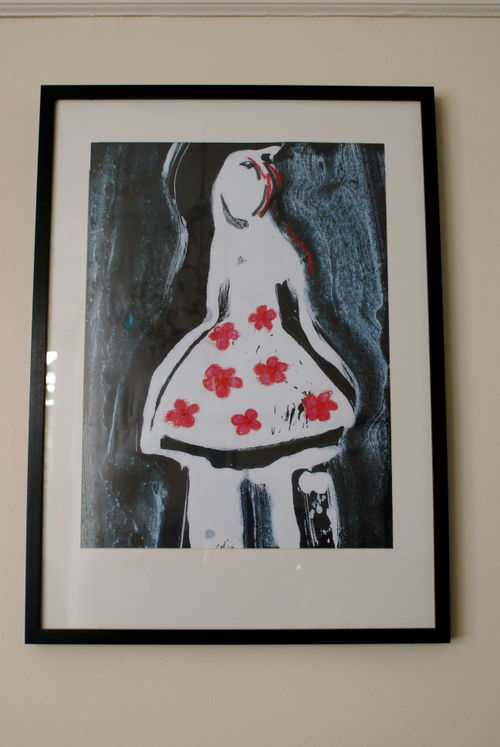 William H Macy - my garden donkey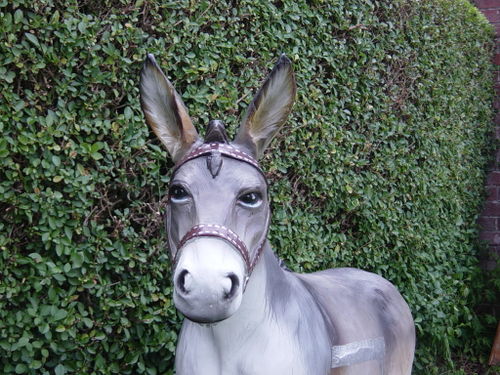 Mr Mole! Whenever I move, I find a spot for him before I do anything else. He has been with me for as long as I can remember...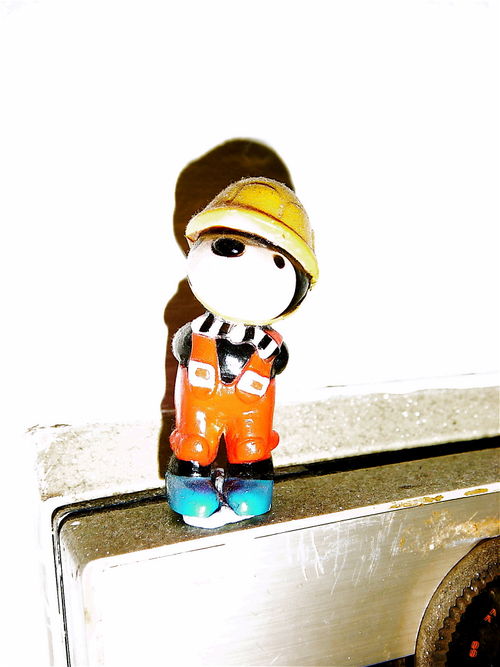 My birthday bird chandeleir made for me by P&M.  It fills me with wonder every time I look at it.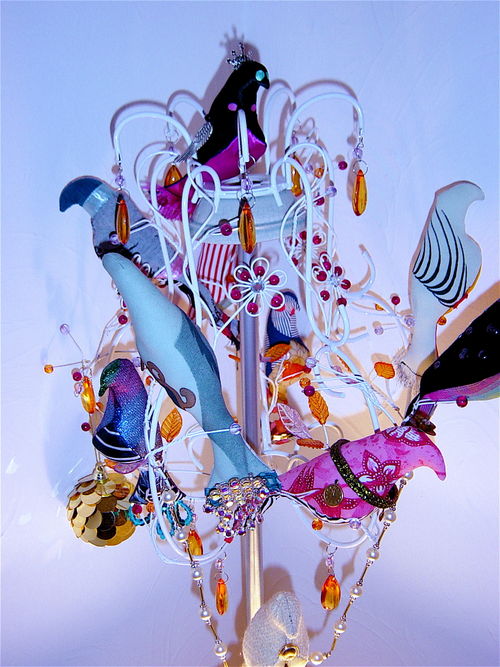 What is your life philosophy?
"Do unto others as you would have them do unto you"  I try to be kind and to remember that we are all just souls making the same journey.
What is your fashion philosophy?
Only wear what you love, regardless of what other people may say or fashion 'dictates'  Just make sure that whatever it is,
you wear it
and not have it wear you.  *shudder*
Share something you recently learned?
Try to live in the moment, because you never know what's coming round the bend.
I want to learn to take more chances emotionally and try to believe in love again.
Where do you find inspiration?
Everywhere!  I am the nosiest girl you will ever meet.  I am constantly soaking in images and information. Because inspiration could be a phrase, a photograph or a panda, I use a reporters notebook to take notes, all the time.
Do you have a routine of magazines/websites that you look at?
I look at and read everything that comes across my path. I love magazines (not as much as QM, who has a real bad habit) and the Sunday Newspapers especially The Times.  Web wise, I tend to just follow my nose but I always make time for Style.com and The New York Times
If you could only read one other fashion/style blog, who's would it be?
Visiting The Cherry Blossom Girl, always makes me smile and  feel that the world is an enchanted place.
Do you have any advice on fashion/style blogging?
Blog about what you love. Blog about what you know.  Always use your own voice and say what you think.  Don't be afraid to speak your mind. Also update often, that way you and your readers can get to know each other.
Do you think starting a fashion blog can introduce you to the fashion
Perhaps! but you would be foolish to start one for that reason. 
The exception to this would maybe be, if you are a young person. Starting a blog and immersing yourself in fashion, could be the first step on a path that could lead you along your chosen career path.
What does the perfect day consist of for you?
Sleeping late. Coming downstairs to find a parcel behind the door. Tea and toast in the garden. More tea as I have a wander round the garden, saying hello to all my plants. An afternoon thrifting with QM, where we both score something wonderful for much much cheapness. Up to Gillians for dinner - chicken, roast potatos and chocolate mousse. Back home for disco nap before heading down to the sub, dancing til 5am to Theo Parish. Sitting back, laughing and chatting, before driving back to someones house for tea and sleepy talk. Then home to bed just as the sun starts to stream in the window...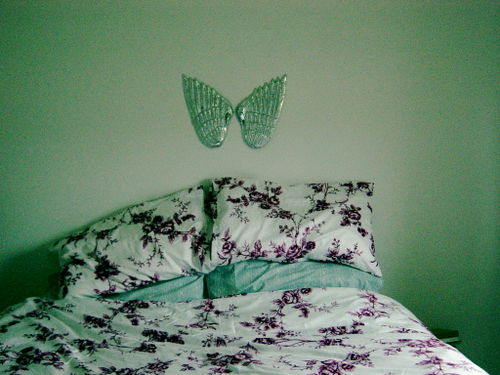 It is always time for a cuppa. Anytime, anywhere.  In fact if I go more than a couple of hours without tea, I get a headache.  Yes I know I have a caffine problem!
How did you get to be so lovable?
This question made me laugh.  I feel far from loveable.  More like a crabbit old cow.
Where do you find so many pretty sparkly things to wear and blog about?
I am a sequin magnet.  I can spot a glittery thing at a thousand paces.  But happily many of the things find their way to me, maybe because they know I will love and treasure them...
Is there anything that you and Queen Michelle borrow from each other's
No! I can't say that there is.  Sister Wolf summed it up perfectly when she said we "respected each other's style sensibilities'  as we are polar opposites in so many things.  Some of her clothes frighten me, and some of mine make her teeth hurt. Obviously I couldn't get her leggings past my ankles...
Anything else you want to know, feel free to ask.